Home | Supplements | eBooks | DVDs | Articles | Forum

BMI Body Mass Index Chart
Click Here For The Best Fat Burning Supplement


Body Mass Index (BMI) Chart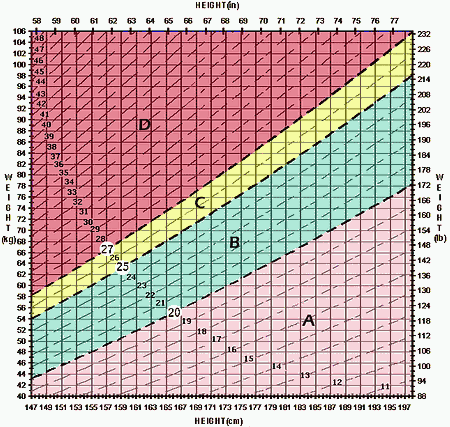 To estimate BMI:
A. locate the point on the chart where height and weight intersect
B. Read the number on the dashed line closest to this point. For example, if you weigh 69 kg and are 173 cm tall, you have a BMI of approximately 23, which is in Zone B.
You can calculate your BMI using this formula:
BMI = weight(kg)/height(m2).
| | |
| --- | --- |
| BMI | Health Effects |
| <20 | May be associated with health problems for some people |
| 20-25 | Good weight for most people |
| 25-27 | May lead to health problems in some people |
| >27 | Increased risk of developing health problems |
Click Here For The Best Fat Burning Supplement


BMI Body Mass Index Chart