Home | Supplements | eBooks | DVDs | Articles | Forum

"No Mistakes"
Nutritional Guide To Building Your Best Body Ever!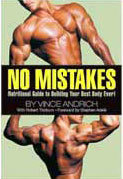 By Vince Andrich with Robert Thoburn and Foreward by Stephen Adele
This guide will teach you how to build a body you and others can be proud of. You will learn to burn off unwanted body fat; How to eat to preserve and gain new muscle mass. You'll even discover new foods that will support an overall healthier, more energetic lifestyle. Ultimately, it will teach you how to fuel your body - the right way - to build the absolute best body your genetics will allow.
Read what experts are saying about this awesome bodybuilding diet book:
"Vince Andrich provided a much needed program based on a sound roadmap of eating for optimum health that makes clear arguments as to why and how you can gain muscle and lose fat and become more fit. After reading this book, you will find that Vince's program is easy to use and how it can work for you. The authors have taken a giant step forward conceptually with the "glucose/carb economy "framework."
Karlis U11is, MD
Medical Director of the Sports Medicine and AntiAging Medical Group in Santa Monica, California Faculty member of the UCLA School of Medicine
"When building your best body, fundamentals are key to success and in his book, Vince presents a rocksolid foundation for a rock-solid body. I follow the nutrition concepts as in this guide, they work for me and they can for you!"
Shawn Phillips
Best Selling Author ABSolution, CEO Nutros
"Vince Andrich has taken the time to fully explain the pitfalls of popular diets point by point. The end result is a nutrition-based strategy for better health, building lean muscle and burning fat year round. The concepts in this book contain the much-needed real information you can put to work for you right now. If you want to change your body cosmetically, this book should be read over and over again."
Cory Everson
6-Time Ms. Olympia
"Vince Andrich does it again-makes a world full of complex nutritional guidelines and advice easy to understand. This book is evolutionary in its approach, well written, well referenced and better yet, the plan works!"
Douglas 5. Kalman MS, RD, FACN

ORDERING INFORMATION
"No Mistakes"
Nutritional Guide To Building Your Best Body Ever!

Now Only $22.95 Plus $5.00 S&H
No Mistakes Bodybuilding Guide Only $27.95