Home | Supplements | eBooks | DVDs | Articles | Forum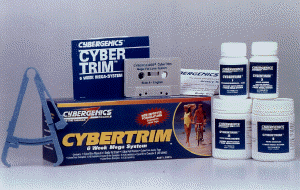 Cybergenics CYBERTRIM Weight Loss Kits
offer a fully integrated six week program which can achieve phenomenal results in both women and men.
Originally designed for use by professional athletes whose performance requirements often dictate an extremely low percentage of body fat, CYBERTRIM quickly became one of the best selling products in history among athletes. Subsequently, people from all walks of life have discovered CYBERTRIM and housewives, businessmen and professionals all over the world are changing the way they look and feel with this amazing system. CYBERTRIM is not a miracle pill, but a scientifically developed synergistic program, which attacks weight loss from every conceivable angle, adapted from the same technology used in advanced sports performance nutrition and training. Make no mistake, this product is a weight loss powerhouse, from the very edge of nutritional technology. CYBERTRIM is safe to use, with no side effects, and will leave you with a renewed self image and confidence.
CYBERTRIM KIT CONTAINS:
Four special concentrated nutritional supplements designed to be used in conjunction with the complete CYBERTRIM program. These concentrated formulas provide a specific nutritional cross-section developed to support the dramatic and rapid transformation you can experience with the CYBERTRIM program.
A high quality pair of skin fold calipers for accurate body composition measurement. With this device, and the daily progress chart (also included) you can precisely measure and isolate fat loss from lean body mass gain or loss. This is critical to accurately chart your progress.
COMPLEX 1
EACH TABLET CONTAINS:
Vitamin A 5000iu, Cholecalciferol (Vitamin D) 10mcg ,Ascorbic Acid (Vitamin C) 6Omg,DL-Alpha tocopherol acetate (Vitamin E) 22 mg, Thiamin Nitrate (Vitamin B1) 1.7 mg, Riboflavine (Vitamin B2 1.7 mg, Pyridoxine Hydrochloride (Vitamin B6) 2mg, Cyanocobalamin (Vitamin B12) 6 mcg, Nicotinamide 20mg, Calcium (as hydrogen phosphate) 200mg, Iron (as ferrous fumarate) 5mg, Magnesium (as oxide) 50 mg, Manganese (as sulfate monohydrate) 4mg, Zinc (as gluconate) 15mg, Copper (as cupric sulfate) 2 mg, Folic Acid 400 mcg, Potassium Iodide 197 mcg, Biotin (Vitamin H) 300 mcg, Molybdenum (as sodium molybdate) 50 mcg, Chromium (as 111 Chloride) 150 mcg, Choline Bitartrate 50mg.

COMPLEX 2
EACH CYBERTAB CONTAINS:
Choline Bitartrate 100mg
Inositol 50mg
Pectin 300mg
Lecithin 1 mg
Guar Gum 300mg

COMPLEX 3
EACH CYBERTAB CONTAINS THE FOLLOWING ACTIVE INGREDIENTS:
Omithine Monohydrochloride 15mg
Aspartic Acid 15mg
Valine 25mg
Leucine 40mg
Isoleucine 25mg
Lysine Hydrochloride 15mg

EACH CYBERTAB ALSO CONTAINS THE FOLLOWING:
Cellulose Microcrystalline 538mg, Crospovidone 15mg, Sillica-Colloidal Anhydrous 7.5 mg, Magnesium Stearate 7.5mg, Talc-purified 7.5mg and Povidone 7.5mg.

COMPLEX 4
EACH CYBERTAB CONTAINS THE FOLLOWING ACTIVE INGREDIENTS:
Guar Gum 300mg
Pectin 300mg

EACH CYBERTAB ALSO CONTAINS:
Citrus Fibre 60mg; Acerola 60mg; Wild Carrot Herb Dry 60mg; Oat 220mg; SilicaColloidal Anhydrous 5mg; Cellulose Microcrystalline 379mg; Magnesium Stearate 16 mg.


CYBERGENICS AMERICA'S PRODUCTS ARE PROUDLY ENDORSED BY THE IFPA,
AND OVER 5,000 PROFESSIONAL TRAINERS WORLDWIDE.
Cybertrim is Not Currently Available
e-mail us for updates
This information presented is intended to be used for educational purposes only. The statements made have not been evaluated by the Food and Drug Administration (U.S.). This product is not intended to diagnose, treat, cure or prevent any condition or disease. Please consult with your own physician or health care practitioner regarding any suggestions and recommendations made.
---
Click here for Cybergenics 60 day Total Bodybuilding Program and Cybergenics Phase 1 6 Week Program
Send Question or Comments to
cybergenics@trulyhuge.com