Home | Supplements | eBooks | DVDs | Articles | Forum

Thermolife E-Bol Supplement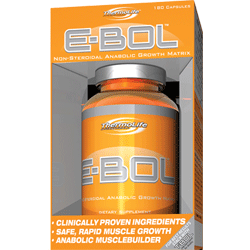 By Bryan Kernan author of Bodybuilding Supplement Secrets Revealed
E-BOL Review
Sprinting ahead at the forefront of the breakthrough category of bodybuilding supplements known as "Adaptogenic Anabolics" is ThermoLife's newest E-BOL formula. Released in the fall of 2009 following immense anticipation and excitement, the new E-BOL is made to be even more irresistibly powerful than the popular original formula. Each capsule bursts with exclusive, high-technology plant extracts manufactured and combined for the purpose of maximizing the user's anabolism by uniquely adapting to his or her individual physiological requirements.
E-BOL is a completely Non-hormonal Designer Muscle Builder and Muscle Growth Signaler. The revolutionary E-BOL matrix signals muscle cells into an anabolic (growth) state, converting more of your dietary protein intake into lean muscle mass, and as a byproduct of this metabolic process the powerful anabolic properties also stimulate fat loss. Unlike other anabolic products E-BOL is 100% non-hormonal, totally safe and guaranteed to have NO negative androgenic side effects.
Many E-BOL users report changes in their strength, power output, and physique after a few days of use, claiming their muscles start to feel harder and stronger than ever, and by the second and third weeks find they have gained more strength and muscle than ever before in such a short period of time and they say that they look and feel better than ever.
E-BOL is intended for use by advanced bodybuilders, athletes and others seeking to enhance their physique and performance above and beyond what can be achieved through diet and training alone. The ingredients in E-BOL are entirely non-hormonal and have been scientifically documented to be free of the undesirable side effects associated with the use of hormones and pro-hormones.
E-BOL Ingredients
Serving Size: 2 Capsules
Servings per Container: 75
Amount per Serving
:
Turkesabol
(Ajuga turkestanica extract - imported directly from the Institute of the Chemistry of Plant Substances, Academy of Sciences, Republic of Uzbekistan containing: Turkesterone, Ecdysterone, Cyasterone and Ajugasterone)


20 mg
EcdyPure
Rhaponticum carthamoides extract standardized for 95% Ecdysterone


110 mg
Ginsentabol
Korean (Red) Ginseng standardized for min 10% Rd ginsenoside


333 mg
Somniferabol
Ashwhaganda (2.5% withanolides)


100 mg
Ionobol
Ionol (4-hydroxy-3, 5-di-tert-butyltoluene)


100 mg
Rostanabol
(25 R)-5alpha-spirostan-2alpha, 3beta, 5alpha-triol-6-OH


20 mg

Vitamin C
333 mg
How to take E-BOL Supplement
Suggested Use:
As an adult dietary supplement take 2 capsules 3 times per day. Take either 30 minutes prior to meals, or with a protein shake. For best results it is recommended to increase your daily protein intake while using this product.
Where to Buy E-BOL For Sale?
Sadly it looks like ThermoLife is no longer in business, and E-BOL is longer available. But you can still get an ecdysterone supplement that is just as good if not better, checkout Ecdy-Bolin.