Home | Supplements | eBooks | DVDs | Articles | Forum

EAS Supplements Ecdy Max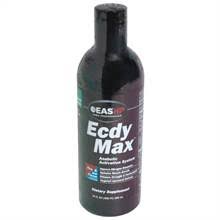 By Bryan Kernan author of Bodybuilding Supplement Secrets Revealed
Ecdy Max Review
When the researchers at EAS designed Ecdy Max HP they wanted a product that increased protein synthesis and work capacity, to optimize anabolic growth. Ecdysterone was the perfect foundation for protein synthesis, but other compounds were needed to maximize overall growth potential without triggering the body's counterproductive estrogen backlash. A trio of powerful ingredients provided the solution to enhancing the critical testosterone/estrogen ratio. A potent extract from Tribulus terrestris was added to promote healthy testosterone levels; Indole-3-Carbinol was included to help eliminate unwanted estrogen; and Calcium-D-Glucarate was added to assist the body in eliminating "anti-growth" molecules. To top it all off, EAS researchers selected a liposomal delivery system to maximize the bioavailability of this unique blend of powerful active ingredients.
Ecdy Max HP features:
Improve Nitrogen Retention
Optimize Muscle Growth
Targeted Liposomal Delivery
Growth Series
Size & Strength
Ecdy Max Questions and Answers
Q: Is it necessary to cycle Ecdy Max HP?
A:
Although this is not specifically stated on the label, it may be beneficial to cycle Ecdy Max HP. Try taking this product for 4 weeks, followed by 1 week off. This cycle should allow for a hormonal "regulation" period, which may increase the effectiveness of the product.
Q: What is protodioscin?
A: Protodioscin is the active ingredient in tribulus terrestris, which may increase the secretion of lutenizing hormone. In turn, lutenizing hormone stimulates the release of testosterone, a powerful muscle-building hormone.
Q: Where does D-glucarate come from? What about indole-3-carbinol (I3C)?
A: Although the ingredient used in Ecdy Max HP is made synthetically, D-glucarate is commonly found in most fruits. In fact, one piece of fruit contains approximately 100 mg of this ingredient. I3C is also made synthetically, however, it can be found naturally in cruciferous vegetables like broccoli, cauliflower and cabbage.
Q: What is a saponin?
A: A saponin is a category of phytonutrients (plant nutrients) found abundantly in many beans, and other plants such as ginseng, alfalfa, yucca, aloe and quinoa seed. Saponin-containing plants tend to have a soapy texture, and are often called "natural detergents" due to the foam that develops when heated (such as the foam that develops when one heats beans). Saponins have been shown to form a complex with cholesterol, which is then excreted from the body. For this reason, saponins are currently being researched for their potential role in cholesterol management and cancer prevention. One saponin that is of particular interest to bodybuilders is called protodioscin which is found in the herb Tribulus terrestris.
Q: Can women take Ecdy Max HP?
A: While it would not be harmful for women, Ecdy Max HP was formulated with the male hormonal environment in mind. Women would likely experience some benefit from taking Ecdy Max HP (mainly from the B-ecdysterone), however, women would be unable to take full advantage of some of the other ingredients for bodybuilding purposes.
Q: What does liposomal mean?
A: A liposome is a spherical, fatty "bubble" that is used to encase ingredients in order to improve absorption of particular ingredients. Because liposomes are able to freely pass into cells, they are able to deliver their "cargo" unharmed, directly into cells where the ingredients may be released and used. Since liposomes may also freely pass through the thin membranes found in the mouth, swooshing Ecdy Max HP in the mouth may allow for the most efficient absorption of Ecdy Max HP.
Q: Why do I need to swoosh Ecdy Max HP in my mouth before swallowing?
A: The "swooshing" period may allow for the product to be passively absorbed through the membranes in the mouth due to the unique liposomal delivery system featured in this product. This delivery system permits the ingredients to pass directly into the bloodstream where they can be delivered directly to the target tissues. In this way, absorption is more efficient, as it allows for the ingredients to bypass the potentially nutrient-damaging environment of the digestive system.
Ecdy Max Ingredients
What's in it?
Nutritional Facts
Serving Size 1 1/2 teaspoons (7.5 mL)
Serving Per Container Approximately 40
Amount Per Serving
Calories 15
Calories from Fat 0
Carbohydrates 3.5 g
Sugars 2 g
Tribulus terrestris (fruit) 500 mg
Furastanolic Saponins, 110 mg
Protoioscin, 35 mg
Calcium D-Glucarate 300 mg
Indole-3-Carbinol 125 mg
Ecdysterones 120 mg
20-Hydroxy B-Ecdysterone, 73 mg
Other Ecdysterones, 47 mg
Other Ingredients:
Purified water, fructose, glycerin, natural and artificial, polysorbate 60, lecithin, sucralose, citric acid, xanthan gum, potassium sorbate (preservative), hydroxyethyl cellulose, sodium benzoate (preservative), Disodium EDTA (preservative), and Red #40
How to take Ecdy Max Supplement
Recommended Use:
Shake well before each use. Dispense 1 1/2 teaspoons, swish in mouth for 30 seconds and swallow. For best results, use 2 servings daily, 10-12 hours apart, in conjunction with a protein rich diet.
Where to Buy Ecdy Max For Sale?
Sadly EAS Supplements is no longer in business, and Ecdy Max is longer available. But you can still get an ecdysterone supplement that is just as good if not better, checkout Ecdy-Bolin.