Home | Supplements | eBooks | DVDs | Articles | Forum

Ed Corney Bodybuilder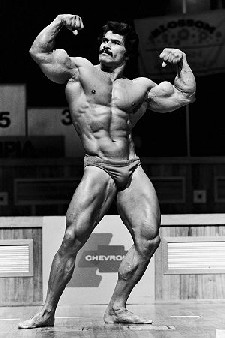 Ed Corney is a well known bodybuilder that still trains today at over 70 years old. Beginning at what most would consider the late age of 33, he took home his first 1st place trophy at the Mr. Fremont championships. Ed Corney is one of the first men to make bodybuilding popular in the 70's, and he still commands a special spot in the history of the sport of bodybuilding.
During his prime, Ed Corney won the 71 AAU Mr. California, 71 IFBB Mr. Usa, and 72 IFBB Mr. American and Mr. Universe titles. He presented himself with a level of professionalism that very few others have ever duplicated. Ed Corney is also known world over for being one of the best in short-class bodybuilding, ranking as high as 3rd overall in Mr. Olympia, bodybuilding's biggest event.
Ed Corney Biography
Ed Corney was born in Hawaii on November 9, 1933. He enlisted in the US Coast Guard in 1950, and after serving in New York City moved to California, where he began his bodybuilding career. Even after age 60, Ed Corney won the over-60 division of the Masters Olympia events in 1994 and 1995. He continues to train to this day.
Ed Corney Bodybuilding
Ed Corney has a reputation of being one of the most powerful bodybuilders ever. In fact, at over 70 years of age he continues bodybuilding today. His winning achievements and flawless posing have made him one of the most recognized professionals ever in the sport of bodybuilding.
Ed Corney Posing
In the 70's and early 80's, Ed Corney stood out with his onstage physical displays. His posing was an aspect of the sport that he revolutionized. No other bodybuilder had ever commanded this onstage presence like he did. These poses still serve as inspiration for many bodybuilders to this day.
Ed Corney has earned his reputation as a master-poser. Many of his competitors have commented on his "flawless" posing.
Ed Corney Pumping Iron Video
Ed Corney, along with many other of the most famous men in bodybuilding, starred in the box office smash "Pumping Iron" in 1977. This semi-documentary is still regarded as one of the best bodybuilding films of all time, and won Ed Corney even broader public recognition. Go to Pumping Iron Video