Home | Supplements | eBooks | DVDs | Articles | Forum

The Best Bodybuilding Supplements That Work
Confused About Which Supplements Are The Best?
Have You Been Wasting Money On Ineffective Bodybuilding Supplements?
Don't Waste Years And Tons Of Money To Find Out Which Ones Work And Which Ones Don't!

EXPLOSIVE GROWTH BLEND™ REVIEW
What's is it?
As we all know there are several types of supplements that make muscle grow, recover, and rebuild faster. But no single supplement will give you all the benefits you want, supplements are synergistic, meaning when certain supplements are combined, their overall net effects are enhanced, allowing for explosive gains and muscle growth.
EGB takes only the best bodybuilding supplements, backed by solid scientific research and in only the highest pharmaceutical quality and combined them into one complete blend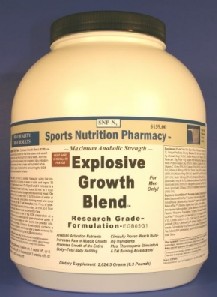 It includes over forty active ingredients that will pack on muscle faster than ever before. Explosive Growth Blend will do everything all of the individual muscle building products do, but better from including all of the ingredients needed for total body building effects. Not just NO2 stimulators, or just creatine or just growth hormone stimulators. Yes all of these are included, and much more, in order to fully activate the anabolic cascade and protein synthesis pathways. Explosive Growth Blend includes all of the anabolics, muscle building, connective tissue building, bone building, neuro-optimizing, vasoactive and hemodialating substances, plus essential cofactors that are most often missing from cheaper products available in stores. Bringing all of these ingredients together in one formula is made possible using proprietary SynerBlend™ technology.
What's in it?
Supplement Facts: Total Daily Serv Size: 225cc (134.5grams), Total Daily Servings: 21, Amount Per Daily Serving: Calories 357, Fat Cal 45, Total Fat 5g, Sat. Fat < 1g, Cholest. 4mg (1% DV), Sodium 49mg (2% DV), Potassium 131mg (4%DV), Total carb. 50g, Fiber < 1g, Sugars (from dextrose) 40g, Protein (from purified Whey Protein Isolate) 24g (48% DV). Vitamin A (acetate) 2500 IU (50%DV), Vitamin C 30 mg (50% DV), Calcium 431mg (43% DV), Vitamin E 15IU (50% DV), Vitamin K 40mcg (50% DV), Thiamin 1.5mg (100% DV), Riboflavin 1.7mg 100% DV), Niacin 10mg (50% DV), Vitamin B6 2mg (100% DV), Folate 200mcg (50% DV), Biotin 100mcg (30% DV), Phosphorus 220mg (22% DV), Zinc (gluconate) 7mg (47% DV), Selenium (methionine) 70mcg (100% DV), Copper (gluconate) 2mg (100% DV), Manganese (gluconate) 2mg (100% DV), Chromium (picolinate) 200mcg (133% DV), Molybdenum (amino acid chelate) 75mcg (100% DV) Explosive Growth Blend™ Proprietary Anabolic Complex 65.6g: Amino Acid Blend [Leucinol BCAAPlex™ (Leucine, Isoleucine, Valine), GlutamiPlex™ (Glutamine & Glutamic Acid), ArginolRx™ (Arginine HCl & Arginine AKG), AminoBalancePlex™ (Alanine, Aspartic Acid, Cystine, Glycine, Histidine, Hydroxylysine, Hydroxyproline, Lysine, Methionine, Phenylalanine, Proline, Serine, Taurine, Threonine, Trypotophan, Tyrosine)], RG-Creatine™ monohydrate, CLAPlex™ [Conjugated Linoleic Acid (c-9, t-11), Conjugated Linolein Acid (c-10, c-12), Linoleic Acid (c-9, c-12), & Oleic Acid (c-9)] , Ornithine Alpha-keto-glutarate (OKG), CarnitinolPLex™ (Acetyl-L-Carnitine (ACL) & L-Carnitine Fumarate, Glucosamine HCl), FlavanoidolComplex ™(Citrus Bioflavonoids & Green Tea Extract 50% polyhenols), Leci-PC 35 (35% phosphatidylcholine), Ferulic Acid, Silica.