Home | Supplements | eBooks | DVDs | Articles | Forum


---
[Submit to forum] [Back to The Truly Huge Home Page]
---
Vince Gironda's gym today
Posted by: Paul Becker
The famous Vince's Gym was located at 11262 Ventura Blvd, Studio City, CA 91604 from 1948 to 1997.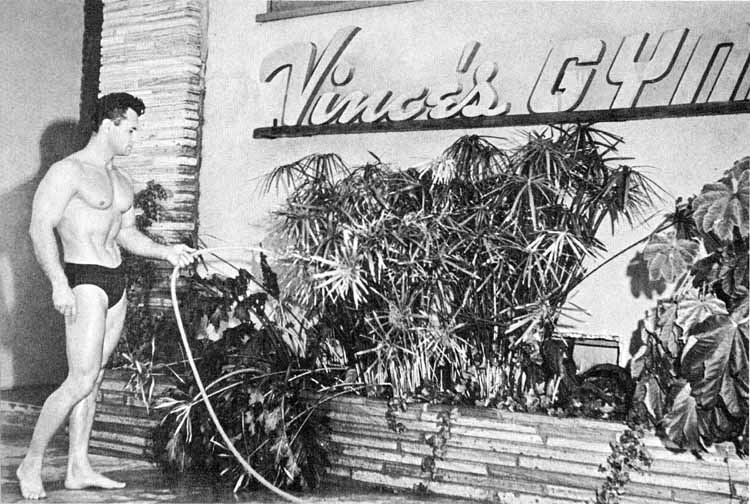 Vince's Gym in the Good Old Days
Since then it's been a few different things such as a cell phone store, etc. But today it is a "Stout Burgers & Beers" location.
Vince Gironda's Gym Today is a Stout Burgers
I personally think it should be a historic landmark, but so far that has not happened.
I went for a visit to Los Angeles recently and had an idea, I made a 5 inch by 7 inch framed picture that I was going to ask them to put up on the wall as a tribute to Vince.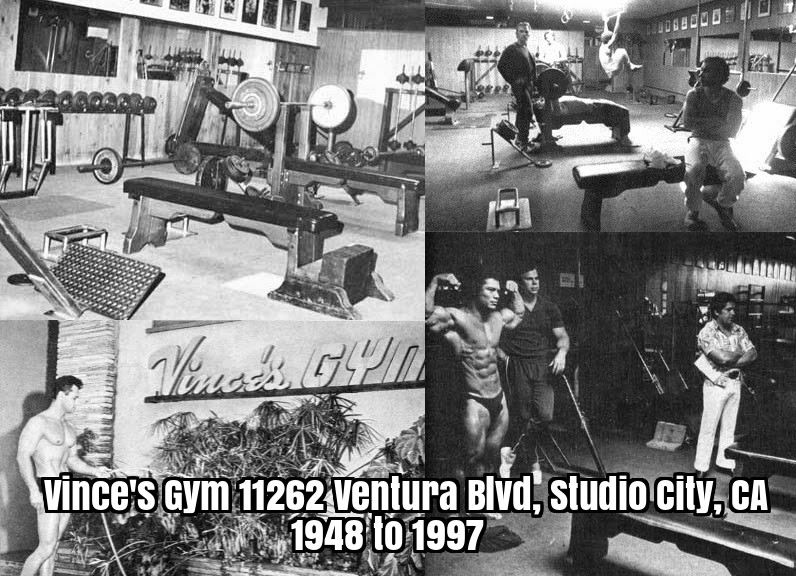 The Tribute Picture I Asked Them To Display
I went to Stout and had lunch, I ordered "The Mr. America Burger", I thought it was fitting. I called my friend Dennis Weis and said you will never guess where I am, at Vince's Burgers.
We talked about the good old days, and he asked if I could feel any of the residual energy from the millions of workouts that happened right between those walls. I told him that there was a feeling when I walked in, a motivational atmosphere.
I talked to the manager and asked if he knew what this building used to be, he said he heard it was a gym, and told me there's still a shower upstairs. I told him this was not just any gym this was "The Gym", that Vince's Gym was there for almost 50 years and all the top bodybuilders such as Arnold Schwarzenegger and movie stars the likes of Clint Eastwood, etc. all worked out there.
I gave him the 5 by 7 picture that I asked if he could put up somewhere in the restaurant as a tribute to Vince's Gym. He told me he couldn't make that decision, that I would have to contact their corporate offices and he told me exactly who to contact and gave me their email. He took the picture and put in a drawer, telling me if he get's and OK from corporate he will put it up.
I did email that person and told them all of the above, but I never heard back and as far as I know it never got displayed, which is a shame.
Hopefully one day Studio City will do something to recognize and pay tribute to Vince.
For more information on Vince Gironda, his gym, his training and diet methods, etc. checkout WhoWasVinceGironda.com
Re: Vince Gironda's gym today
Posted by: David Gironda Sr.
When I had joined Facebook found that the building was available for sale. I inquired about getting Historical Building status, and tried to work with the local Ventura Blvd. historical group, along with Golden Era folks to see if it could be purchased and returned as a gym. But it sold to Stout, and they made a permanent mess of it, very sadly. Then later found out that all the gym equipment, rugs and framed photos had been preserved all together, as Vince had insisted, by a friend who bought it all when the gym had to close in foreclosure. I even drove from Arizona to meet at Stouts to check it out with others, as the entire gym equipment-plus might be available for sale. We worked for months looking for a place to re-establish a bodybuilding museum and working gym (by appointment) even talking with nearby hotels/lodges for long-distant visitor stays. Then the entire original equipment became available, and two of Vince's associates working with us bought it all, swearing to keep it together as Vince had insisted. However, they betrayed us and Vince, kept prized pieces designed by Vince for themselves, listed other pieces on eBay for sale, and sold portions all over as far as Australia, to our disgust. So in spite of the efforts to preserve the gym, and the equipment, it is all gone, forever. Goddamn the traitors, may they burn in hell.
[Natural Bodybuilding Forum] [Bodybuilding Supplement Forum] [Weightlifting Forum] [Bodybuilding Message Board]
[Powerlifting Forum] [Bodybuilding Discussion Forum] [Bodybuilder Forum] [Teen Bodybuilding Forum]
[Muscle Growth Forum] [Weight Loss Forum] [Workout Forum] [Health and Fitness Forum]
---