Home | Supplements | eBooks | DVDs | Articles | Forum

Featured Diet
Weight Loss Product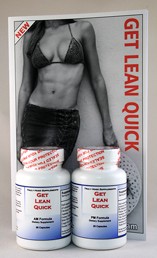 Buy Get Lean Quick
14 Day Fat Loss Click here!
---
[Submit to forum] [Back to The Truly Huge Home Page]
---
FREE WEEKLY FITNESS TIPS NEWSLETTER
Fitness, Diet and Weight Loss weekly e-mail tips,
stay informed and stay motivated, join today!

Sign up free by sending an e-mail to
newsletter@trulyhuge.com
Re: Best Way To Lose My Gut
Posted by: Chris
Hey there steve, its gonna take alot of aerobic exercise, to lose that gut. When I had mine I did alot, and when I say alot I mean ALOT of running. Try running on a treadmill 5 days a week for 20 min at full incline. The higher the incline the better. Also do alot of situps/ab exersices to bulk up those abs, so when they start to show they look good. I also went through the large bottle of Fat Burner, it helped me out considerably. I dont kow if this will work for you, but for me alot of running/ab exercises and Fat Burner did the trick. Also you have to eat right. Eating is a huge role in it, eat alot of healthy items, steer clear of bread/pickles/pastas/junk food!
[Natural Bodybuilding Forum] [Bodybuilding Supplement Forum] [Weightlifting Forum] [Bodybuilding Message Board]
[Powerlifting Forum] [Bodybuilding Discussion Forum] [Bodybuilder Forum] [Teen Bodybuilding Forum]
[Muscle Growth Forum] [Weight Loss Forum] [Workout Forum] [Health and Fitness Forum]
---
Please Click On Our Sponsors


---