Home | Supplements | eBooks | DVDs | Articles | Forum

Featured Diet
Weight Loss Product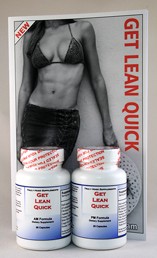 Buy Get Lean Quick
14 Day Fat Loss Click here!
---
[Submit to forum] [Back to The Truly Huge Home Page]
---
FREE WEEKLY FITNESS TIPS NEWSLETTER
Fitness, Diet and Weight Loss weekly e-mail tips,
stay informed and stay motivated, join today!

Sign up free by sending an e-mail to
newsletter@trulyhuge.com
Effects of Skipping Breakfast
Posted by: Jamie
Question : Can I still effectively lose weight if I skip breakfast?
Answer: You have probably heard if you skip breakfast it will slow down metabolic rate.
The facts are you have to consider your nutritional intake through out the entire day. If at the end of day you consumed over your maintenance or at your maintenance level of cals probably will not lose wt (exception being initial phase of low carb diet where carb depletion may result in water loss). I would generally recommend you consume breakfast, but it isnít a has to be.
In the short term starvation actually enhance metabolic rate. Nor-epinephrine actually increases.
[Natural Bodybuilding Forum] [Bodybuilding Supplement Forum] [Weightlifting Forum] [Bodybuilding Message Board]
[Powerlifting Forum] [Bodybuilding Discussion Forum] [Bodybuilder Forum] [Teen Bodybuilding Forum]
[Muscle Growth Forum] [Weight Loss Forum] [Workout Forum] [Health and Fitness Forum]
---
Please Click On Our Sponsors


---