Home | Supplements | eBooks | DVDs | Articles | Forum

Featured Diet
Weight Loss Product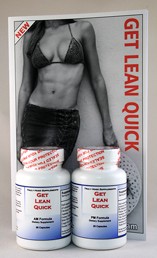 Buy Get Lean Quick
14 Day Fat Loss Click here!
---
[Submit to forum] [Back to The Truly Huge Home Page]
---
FREE WEEKLY FITNESS TIPS NEWSLETTER
Fitness, Diet and Weight Loss weekly e-mail tips,
stay informed and stay motivated, join today!

Sign up free by sending an e-mail to
newsletter@trulyhuge.com
Medifast Diet Program Review
Posted by: sme
There are a number of Medifast products - 90 calorie liquids. Higher calorie liquids. Soups. Some other products.
Generally Medifast recommends that you do either 4 shakes a day and one low calorie meal, or 5 shakes a day and no meals. If you are diabetic you shouldn't do a pure liquid diet.
BTW, as others told you, DO NOT do Medifast without medical supervision. It is a very low calorie diet (the 90 calories add up to 450 a day). A doctor needs to ensure that you are in good health, and keep an eye on your blood work and heart condition.
I did Medifast for 6 months and lost 82 pounds. It worked for me, but it most certainly is not for everybody.
Good luck.
[Natural Bodybuilding Forum] [Bodybuilding Supplement Forum] [Weightlifting Forum] [Bodybuilding Message Board]
[Powerlifting Forum] [Bodybuilding Discussion Forum] [Bodybuilder Forum] [Teen Bodybuilding Forum]
[Muscle Growth Forum] [Weight Loss Forum] [Workout Forum] [Health and Fitness Forum]
---
Please Click On Our Sponsors


---