Home | Supplements | eBooks | DVDs | Articles | Forum

Featured Diet
Weight Loss Product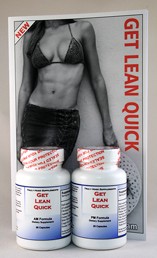 Buy Get Lean Quick
14 Day Fat Loss Click here!
---
[Submit to forum] [Back to The Truly Huge Home Page]
---
FREE WEEKLY FITNESS TIPS NEWSLETTER
Fitness, Diet and Weight Loss weekly e-mail tips,
stay informed and stay motivated, join today!

Sign up free by sending an e-mail to
newsletter@trulyhuge.com
Ab Sculpting And Bigger But Exercises
Re: Abs Sculpting And Bigger Butt Exercise
Posted by: trainerSI (
ismari@consolidated.net
)
To increase size of glutes, you need to squat and squat deep. going down to paralelle or below will activate the glutes and hamstrings. other assist moves are standing or walking lunges, low pulley kickbacks and weighted step ups. Keep the rep range around 8-12 and do about 3-4 working sets of each exercise. For you to see your abs cleaerer, its all about diet. Eating clean natural foods, staying away from junk and fast foods. Cardio will also help burn the fat from the entire body, no spot reduction here. Consistency and time will reduce overall body fat this way.
Re: Abs Sculpting And Bigger Butt Exercise
Posted by: Chanse Durdahl (
cdurdahl@hotmail.com
)
To gain a butt the best thing for that is to do clean and jerk or snatch. I have done these for a few years now and butt looks like you can set a can on it.
[Natural Bodybuilding Forum] [Bodybuilding Supplement Forum] [Weightlifting Forum] [Bodybuilding Message Board]
[Powerlifting Forum] [Bodybuilding Discussion Forum] [Bodybuilder Forum] [Teen Bodybuilding Forum]
[Muscle Growth Forum] [Weight Loss Forum] [Workout Forum] [Health and Fitness Forum]
---
Please Click On Our Sponsors


---