Home | Supplements | eBooks | DVDs | Articles | Forum


---
[Submit to forum] [Back to The Truly Huge Home Page]
---
New Mike Mentzer HIT Training Book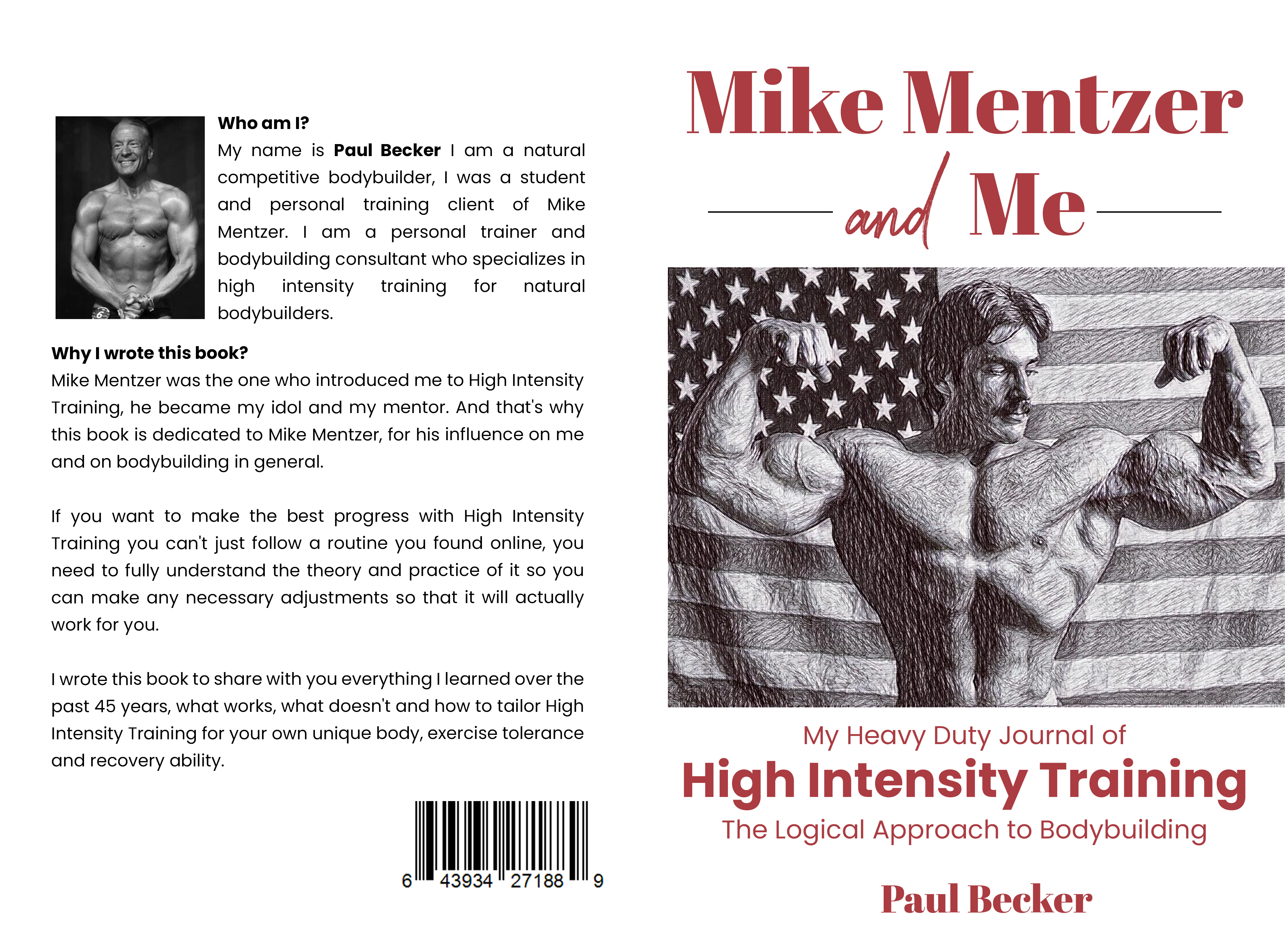 Posted by: Paul
To clear up any confusion, the New Mike Mentzer High Intensity Training Book is an actual physical book, not an ebook, kindle or pdf download.
Introducing the Mike Mentzer and Me: My Heavy Duty Journal of High Intensity Training The Logical Approach to Bodybuilding by Paul Becker - the ultimate resource for transforming your training and achieving unprecedented bodybuilding results. Unlike most training guides that come in electronic formats, this exceptional book is a real, tangible item that you can proudly display in your personal library.
Crafted with utmost care, this perfect bound paperback is not just a source of knowledge, but a stunning masterpiece worthy of admiration. Its beautifully designed cover will immediately catch the eye, inviting you to dive into the wealth of valuable information contained within its pages.
Dive deep into the world of Mike Mentzer's High-Intensity Training (HIT) with natural bodybuilder Paul Becker as your guide. Paul expertly weaves Mentzer's revolutionary training principles into this book, ensuring everyone can benefit from his groundbreaking methods. Whether you're a beginner looking to get fit or an experienced athlete seeking to break through plateaus, this book offers the blueprint for success.
Inside, you'll find a well-structured layout that captivates the reader, making it easy to navigate through the chapters. The comprehensive content covers all aspects of HIT Training, from the science behind it to practical tips and advanced techniques that will push your limits and maximize your gains.
No more scrolling through endless PDFs or squinting at digital screens. Embrace the joy of reading a physical book that you can touch, feel, and genuinely connect with. The New Mike Mentzer HIT Training Book is a testament to your commitment to personal growth and well-being.
Don't settle for digital replicas - experience the pleasure of immersing yourself in the rich, informative world of HIT with this remarkable real print book. Elevate your training, enhance your knowledge, and proudly exhibit this beautiful book as a cherished addition to your library. Get your hands on the New Mike Mentzer HIT Training Book by Paul Becker today and unlock the secrets to transforming your physique like never before.
Check it out at https://www.trulyhuge.com/mike-mentzer-book.html
You can also find it on Amazon https://www.amazon.com/Mike-Mentzer-Me-Intensity-Bodybuilding/dp/B0CLSXR7WC/
And eBay https://www.ebay.com/itm/196049887376
If you have any questions about Mike Mentzer or High Intensity Training email me and I'll get back to you with an answer as quick as I can.
[Natural Bodybuilding Forum] [Bodybuilding Supplement Forum] [Weightlifting Forum] [Bodybuilding Message Board]
[Powerlifting Forum] [Bodybuilding Discussion Forum] [Bodybuilder Forum] [Teen Bodybuilding Forum]
[Muscle Growth Forum] [Weight Loss Forum] [Workout Forum] [Health and Fitness Forum]
---