Home | Supplements | eBooks | DVDs | Articles | Forum

Featured Diet
Weight Loss Product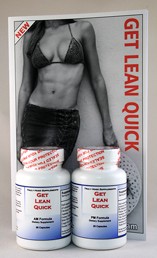 Buy Get Lean Quick
14 Day Fat Loss Click here!
---
[Submit to forum] [Back to The Truly Huge Home Page]
---
Dangers of Hydroxycut Side Effects
Posted by: Paul
The FDA is warning people to stop using Hydroxycut, because the supplements may be linked to a death and may cause liver problems.
The US FDA received 23 reports of health issues including: seizures, cardiovascular disorders, jaundice, elevated liver enzymes, requiring liver transplant and even one death from liver failure.
The FDA has not received reports of serious side effect for all Hydroxycut supplements, but Iovate Health Sciences is still going to recall all products below:
Hydroxycut Regular Rapid Release Caplets
Hydroxycut Caffeine-Free Rapid Release Caplets
Hydroxycut Hardcore Liquid Caplets
Hydroxycut Max Liquid Caplets
Hydroxycut Regular Drink Packets
Hydroxycut Caffeine-Free Drink Packets
Hydroxycut Hardcore Drink Packets (Ignition Stix)
Hydroxycut Max Drink Packets
Hydroxycut Liquid Shots
Hydroxycut Hardcore RTDs (Ready-to-Drink)
Hydroxycut Max Aqua Shed
Hydroxycut 24
Hydroxycut Carb Control
Hydroxycut Natural
If you have any of the above products, you are advised to stop using them and to return them to your place of purchase.
Hydroxycut Cleanse and Hoodia supplements are not part of the recall.
The FDA says it will continue to investigate any connection between Hydroxycut dietary supplements and liver damage or any other dangers or side effects.
[Natural Bodybuilding Forum] [Bodybuilding Supplement Forum] [Weightlifting Forum] [Bodybuilding Message Board]
[Powerlifting Forum] [Bodybuilding Discussion Forum] [Bodybuilder Forum] [Teen Bodybuilding Forum]
[Muscle Growth Forum] [Weight Loss Forum] [Workout Forum] [Health and Fitness Forum]
---
Please Click On Our Sponsors


---