Home | Supplements | eBooks | DVDs | Articles | Forum


---
[Submit to forum] [Back to The Truly Huge Home Page]
---
Father Son Bodybuilders
Posted by: AthletePhotos
Father and son bodybuilders were pumped up, literally, as they competed in the Battle for the Burg IV Bodybuilding competition held at Plattsburgh, NY on May 31, 2009. Adam and Scott Rivers competed among the best in New York State. Competition was rigid among the athletes at the all-natural, drug-free event sanctioned by the United States Bodybuilding Federation.
The strict days of training includes special dieting, cardio exercising and weight lifting to compete in bodybuilding competitions.
The father-son team makes a significant sacrifice to maintain their bodybuilder's physique. Their dedication, discipline and hard work have lead to an obvious enjoyment of the sport.
Justin Thorpe, a friend of the father-son duo, has competed at the same events. The three provide the necessary motivation and support needed to keep away from the temptations of slacking off and eating the wrong foods.
Scott Rivers (the Dad) competed in the Men Masterís 40+ and placed an excellent second. He also won the third place trophy for the Menís Middle Weight ďBĒ class.
Adam (the son) competed in the Menís Juniors and took home the third place trophy. He also competed in the Menís Light Heavy class and won third place.
The promoter for this event was Jim Tyler of Hardcore Fitness of Peru, NY.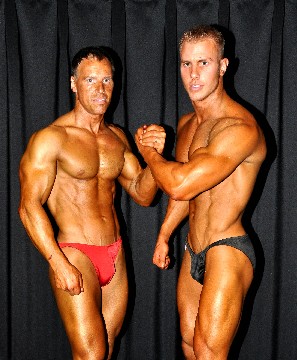 Photo of the duo provided by AthletePhotos, telephone: 631-259-9674, mailing address: 4 Riverside Dr. Suite 245, Utica, NY 13502
[Natural Bodybuilding Forum] [Bodybuilding Supplement Forum] [Weightlifting Forum] [Bodybuilding Message Board]
[Powerlifting Forum] [Bodybuilding Discussion Forum] [Bodybuilder Forum] [Teen Bodybuilding Forum]
[Muscle Growth Forum] [Weight Loss Forum] [Workout Forum] [Health and Fitness Forum]
---