Home | Supplements | eBooks | DVDs | Articles | Forum

Franco Columbu Bodybuilding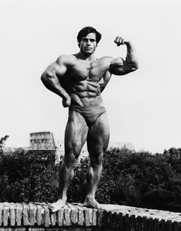 Franco Columbu was born on Sardinia, an Italian island where he had a Catholic upbringing and strong work ethic. He has reached extraordinary achievements, from winning every important title in power lifting and bodybuilding to being a two-time Mr. Olympia. He has also been named Mr. World and Mr. Universe. Franco Columbu was named Mr. Olympia in 1976, then again in 1981.
Franco Columbu is one of the biggest names ever in bodybuilding, having won his second title as Mr. Olympia at the age of 40. He went on the become a chiropractor. In powerlifting, he has won many titles including Champion of Italy, Champion of Europe and World Champion. He was also an amateur boxing champion.
Franco Columbu Height
At only 5' 5", Franco Columbu is considerably shorter than most bodybuilding competitors, and some publications report his height is only 5' 3". I met him recently and to me he seemed about 5'1" to me.
Franco Columbu Stats Measurements
Franco Columbu, although very short, had measurements that equaled the taller bodybuilders. At a weight of 185 pounds, he claimed his arms measured 19", chest 50", waist 30", thighs 26", and calves 17 1/2". There have also been reports that his chest measurement was actually 52".
Franco Columbu has some very impressive power lifting statistics. His world records include bench pressing 525 pounds, squatting 655 pounds, and dead lifting 750 pounds. Here you can find out more about Franco Columbu's workout routine.
Franco Columbu Video
Since his reign as a world champion bodybuilder, Franco Columbu has been involved in many videos, including Terminator, Deadly Descent, and Ancient Warriors. Franco Columbu also starred in the popular 1977 semi-documentary film Pumping Iron, which became a box-office smash hit. This video is available on our site. Go to Pumping Iron Video