Home | Supplements | eBooks | DVDs | Articles | Forum

Joint Support Supplement for Bodybuilding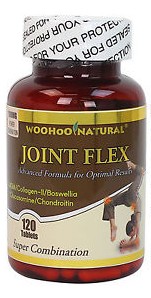 New Power Joint Formula Herbal Supplement Supports Your Joint Health!
Power Joint Formula: Joint Support Dietary Supplement
It's true bodybuilders, powerlfiters and others involved in athletics cause a lot of stress, wear and tear on their joints, and need to take a joint support supplement to keep their joints strong, healthy and pain free.
Power Joint Formula is the best natural joint supplement designed to help build and maintain the health of an athlete's joints.
Power Joint Formula was designed to be strong enough for athletes, bodybuilders and powerlifters. It contains only the highest quality, most effective ingredients such as:
Chondroitin Sulphate
Glucosamine Sulphate
MSM (methylsulfonylmethane)
Boswellia Serrata Extract
Bromelain
Power Joint Formula is used by athletes and people from all walks of life to:
- Support healthy joint functions
- Better physical performance
- Increase joint strength and flexibility
- Help lubricate joints
- Inhibit joint inflammation
- Stronger muscle, bones, and connective tissues
- Help rebuild damaged cartilage and connective tissues
- Speed recovery from existing injury or inflammation
- Protect against injuries
- Maintain healthy joints
- Improved skin, hair and nails
Power Joint Formula is not available in stores and is only sold directly to you, this is to insure you the best quality and the best price.
Order now!
Super Strength Joint Flex Advance Formula
Joint Support Dietary Supplement
120 Tablets (30 Day Supply)
Now Only $29.95 plus $8.00 S&H

We Accept:

All Orders Are Processed On Our Secure Server
For Orders In The USA
For Orders Outside The USA
To order by phone call:
1-800-635-8970 or 1-503-648-1898
10 AM to 6 PM PST
To order by mail, send check/money order payable to:
Paul Becker
PO Box 95
Weiser, ID 83672