Home | Supplements | eBooks | DVDs | Articles | Forum

Ken Waller Bodybuilding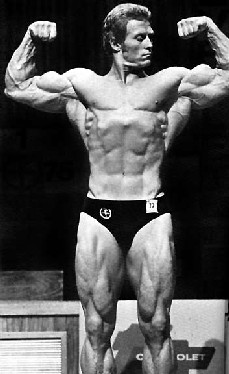 Ken Waller Biography
Ken Waller was born on March 20, 1942 in Jeffersonville, Indiana. He was a member of the class of 1965 at Western Kentucky University at Bowling Green, where he was a member of the Tangerine Bowl football team.
After serving in the United States Marine Corps and teaching high school in Louisville, KY Ken Waller went on to play professional football in Canada.
Ken Waller Bodybuilder
Ken Waller is was featured in the 1977 move Pumping Iron, and is an American former bodybuilder. He is one of the few redheaded professional bodybuilders in the sport, and was well known for his curly red hair and freckles.
Ken Waller Gold's Gym
Some say that Ken Waller went on to become a manager at the company that sells Gold's Gym merchandise, and was the manager of the Gold's Gym in Venice Beach. Other takes on the subject state that Waller has never been a manager of Gold's Gym.
Ken Waller Pumping Iron
Ken Waller was featured in the 1977 smash movie "Pumping Iron" which was a semi-documentary covering the days leading up to the Mr. Olympia championship. Ken Waller starred with many of the most well known names in bodybuilding including Arnold Schwarzenegger and Lou Ferrigno. Pumping Iron is still popular today. Go to Pumping Iron Video
Ken Waller DVD
Ken Waller starred in two films, "Pumping Iron" and "Flex". Pumping Iron is available on DVD and is considered by most the best bodybuilding film made to date. Pumping Iron DVD's are available on our site. Go to Pumping Iron DVD