Home | Supplements | eBooks | DVDs | Articles | Forum

Lou Ferrigno Biography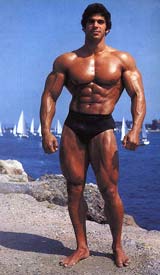 Lou Ferrigno was born in Brooklyn, New York on November 9, 1951. While still a young child, Lou lost most of his hearing due to an ear infection. As a teenager, he trained in the basement of his home in Brooklyn. He was named Mr. Universe in 1973 and again in 1974, and appeared in the bodybuilding film Pumping Iron in 1977. Thanks to his well known credentials as a bodybuilder, Lou Ferrigno began a five season streak as The Hulk from 1978 to 1982 with co-star Bill Bixby. When this popular series ended, he went on to star in other movies requiring his well muscled physique. These movies include Hercules from 1983 and Sinbad in 1989.
How Tall is Lou Ferrigno
In his heyday, Lou Ferrigno was reported to be 6' 5" tall, although some reports put him at 6' 4 1/2". These days, many who have seen him in person believe Lou to be approximately 6' 3" tall.
Measurements of Lou Ferrigno
While in bodybuilding competition, the measurements of Lou Ferrigno were: Chest, 59" Waist, 34" and bicep, 22 1/2". His thighs measured 29" and neck was 19". While at the peak of his bodybuilding career, his weight was 285 lbs. In 2001 at the age of 50, his weight was said to be 275 lbs.
Lou Ferrigno Pumping Iron
In the 1977 documentary film Pumping Iron, Lou Ferrigno along with his father Matty and Arnold Schwarzenegger among others star in one of the most cult bodybuilding films ever made. This film follows Ferrigno as he and the others train rigorously leading up to the 1975 Mr. Olympia bodybuilding competition. It also touches on the close relationship with his father, as well as his shyness. Pumping Iron documents what is referred to as "The Golden Age" of bodybuilding. If you are a bodybuilder or Lou Ferrigno fan, you will love this film. Go to Pumping Iron Video
Do you need a professional biography writer online? WriteMyPaperHub will write your biography about any bodybuilder you want.