Home | Supplements | eBooks | DVDs | Articles | Forum

Matty Ferrigno Biography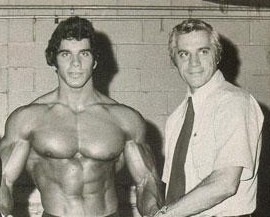 Matty Ferrigno was the father of Lou Ferrigno, one of the bodybuilding greats of the 70's. Of course, Lou also starred in the television show The Incredible Hulk for several years.
Matty Ferrigno was a hard driving force behind Lou's bodybuilding exploits. This was his biggest claim to fame. He also appeared in the film Pumping Iron along with Lou. Matty was born on May 25, 1925. He worked in New York as a policeman and was promoted to lieutenant before he retired in 1983.
Throughout life, Matty Ferrigno had a complicated relationship with Lou. His fiery personality was part of the hard driving ambition he had to make his son one of the best bodybuilders in the world. He drove Lou hard, mostly in an effort to make him a better man.
Is Matty Ferrigno Still Alive?
Matty Ferrigno died on August 21, 2003 after a long bout with stomach cancer. He is survived by his wife Victoria Ferrigno.
Matty Ferrigno Pumping Iron
Matty Ferrigno played a big role in the hugely popular semi-documentary "Pumping Iron", which chronicled the training in the weeks leading up to the Mr. Olympia contest. In the film, he was shown helping his son Lou train, and had many unforgettable lines that are still quoted to this day. To many fans, the role Matty played is what made the film as great as it is.
One great line that Matty said to Lou during the film, "Don't ever feel sorry for yourself Louie, if you're training hard Arnold is training twice as hard." The Pumping Iron DVD is available on this site. Go to Pumping Iron Video