Home | Supplements | eBooks | DVDs | Articles | Forum

If you haven't tried Mike Mentzer's Heavy Duty
training system, you don't know what you're missing...
"How to Have Mike Mentzer
as Your Own Personal Trainer..."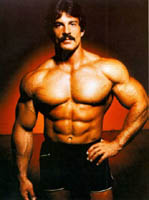 Mike Mentzer is the only bodybuilder to ever get
a perfect 300 score in the Mr. Universe contest.
Now you can learn his amazing training system and
build muscle mass and strength faster then ever!
Just think how much muscle you could gain if you had Mike Mentzer personally training you. You would most likely have to buy new clothes because you would out grow your old ones!
When Mike was competing in bodybuilding and busy winning such contests as Mr. America, Mr. Universe and even the heavyweight Mr. Olympia, he introduced the world to a new way of training that involved very brief, but super intense workouts, which became the biggest craze in bodybuilding to date.
After he retired from competition Mike became a personal trainer, working with many of the top bodybuilders such as Dorian Yates, Aaron Baker, Markus Reinhardt, etc. As a matter of fact Mike's personal training clients gained 30-40 pounds in three to four months, not as an occasional or exceptional case - but as the general rule!
Now you, too, can get the
same personal training guidance!
Of course, it would be impossible to hire Mike Mentzer as a personal trainer, since he passed away from congenital heart disease a few years back. But before he died he was smart enough to make sure that you would have the next best thing. He recorded videos of his seminars and gym workouts, so that you can have his entire heavy duty training system. He held back nothing. He revealed every secret!
Imagine working out as little as 20 minutes, 2 to 3 days a week, and packing on new muscle mass and strength faster then you ever dreamed possible. Sound impossible? Well...it's not!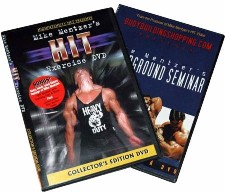 Now, you will get both of Mike's videos, the Mike Mentzer Workout DVD (retails for $29.95) and the Mike Mentzer Seminar DVD (retails for 39.95) both for only $57.00!
Special Bonus!
As a bonus for ordering right now, we will also send you, absolutely FREE, the Arthur Jones High Intensity Training Secrets eBook. Arthur Jones was the inventor of the Nautilus exercise machines, and was well noted for changing the concepts of exercise away from the old school of training, which involved hours in the gym, to High Intensity Training. It was only after meeting with Arthur Jones, that Mike Mentzer became convinced that brief and infrequent training was the way to go. This amazing eBook is easily worth the entire cost of this package, but it's your FREE - if you order now!
Get The Full Mike Mentzer Training System
Including The Workout DVD, Seminar DVD and the
FREE Arthur Jones Training Secrets eBook
All For Only $57.00 (plus $8.00 S&H)!
To order by phone call:
1-800-635-8970 or 1-503-648-1898
10 AM to 6 PM PST
To order by mail, send check/money order payable to:
Paul Becker
PO Box 95
Weiser, ID 83672