Home | Supplements | eBooks | DVDs | Articles | Forum

Mike Mentzer Underground Seminar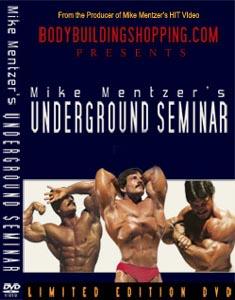 Mike Mentzer Heavy Duty HIT Program
Who was Mike Mentzer?
Mike Mentzer was born in Germantown, Pennsylvania, and was something of a bodybuilding renaissance man. Renowned as much for his vocabulary and propensity to quote the philosophy of Ayn Rand as he was for the dimensions of his Herculean physique, Mentzer established himself first as a bodybuilding champion and then as a scholar of the sport.
What is Heavy Duty Training?
Mentzer came in contact with Arthur Jones, who at that time was promoting his less-is-best training theories along with his Nautilus exercise equipment. From that grounding, Mentzer eventually evolved his own Heavy Duty training philosophy, which espoused brief intense workout sessions and spawned countless articles, many books and videos. Using Heavy Duty Training, Mentzer won the 1976 IFBB Mr. America, and in 1978 he won the heavyweight division at the IFBB World Amateur Championships with a perfect score.
What is the Underground Seminar?
Mike Mentzer's Underground Seminar is the last Mentzer seminar that I, or anyone else will ever see. The Underground Seminar DVD is a thorough presentation of Mentzer's most completely developed theories, principles, and suggestions for practical application.
Straight, forceful talk - Mentzer was never a mincer of words! For example, though independently employed at the time of the underground seminar, Mentzer was outspoken about the misleading untruths of the muscle "ragazines". But even in '78, soon after stepping out of the cab with the Joe Weider, the "Master Blaster" himself, Mentzer informed his seminar attendees, that the muscle magazines of the day were actually registered as catalogues. In the underground seminar, he leaves no question about his opinions of some leading exercise scientists, nor about the reasons for his opinions. An empirical, scientific approach - Mentzer never expected his audience to believe that he knew what he was talking about just because his triceps looked like Christmas hams! Some people with academic credentials in exercise science prescribe exercise routines for the public that look like they combed them from the latest dime store rack of muscle magazines. Mentzer did not appeal to tradition, authority figures, or common practices. Rather, he appealed to actual results in the gym, as well reputable scientific knowledge in areas like nutrition and genetics, to back his arguments.
An integrated, logical approach centered on fundamental principles. Mentzer was not only empirical (focused on data, facts, and the evidence of the senses). Any exercise scientist should have a plethora of data and facts at this fingertips (e.g., facts of kinesiology and physiology, and the results of a multitude of research studies on various strength training techniques.) Still, the key issue is how one interprets the data. For example, what do the body's mechanisms of growth and stress adaptation imply in terms of the intensity, volume and frequency of exercise? Mentzer always took a rational, as well as an empirical approach. Indeed, he often acknowledged that it was Nautilus inventor Arthur Jones who inspired him to apply his reason to bodybuilding. Many of Jones' principles formed the foundation of Mentzer's Heavy Duty approach. In later years though, Mentzer gave more and more thought to the fundamentals of exercise, (e.g., intensity, recovery ability, volume, and frequency), arriving at some conclusions that do not contradict, but in some ways supersede his and Jones' earlier approaches.
This DVD is the only recording of Mike Mentzer's Seminar. Two full hours of Mike discussing exercise fundamentals, their relationships, and stories of past clients. Hear Mike discuss exercise theory, applying that theory to bodybuilding, answering questions from the audience. He explains the mistakes made by nearly everyone who picks up a weight and much more. Very entertaining, educational and a MUST for any Mike Mentzer fan.
If you are a huge Mike Mentzer fan like me, or just want to build you body as fast as possible, you will want to pick up this DVD!
Also if you order right now you will get a FREE eBook

Arthur Jones The Father of High Intensity Training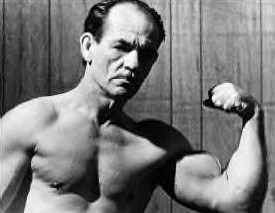 Arthur Jones is the inventor of the Nautilus exercise machines, and was well noted for changing the concepts of exercise away from the old school of training, which involved hours in the gym, to High Intensity Training. It was only after meeting with Arthur Jones, that Mike Mentzer became convinced that brief and infrequent training was the way to go.
This amazing eBook you will show you how to pack on mass, strength and power, faster then you would believe possible! Here's just some of what you'll learn:
What are the true limits of muscle size?

How to create a natural anabolic state.

How to build the maximum muscle in the minimum amount of time.

How to warm-up properly.

How to overcome sticking points in training.

What is the true significance of such factors as "pump" and "soreness"?

Freeweights versus machines.

Advanced HIT principles.

How to build the ulitimate physique.

. . . and much, much more!
That's right you will get the Mike Mentzer Underground Seminar DVD plus the FREE Arthur Jones eBook all for only...
$29.95 plus $8.00 S&H
Mike Mentzer Seminar DVD Only $37.95
To order by phone call:
1-800-635-8970 or 1-503-648-1898
10 AM to 6 PM PST
To order by mail, send check/money order payable to:
Paul Becker
PO Box 95
Weiser, ID 83672