Home | Supplements | eBooks | DVDs | Articles | Forum

Mike Mentzer Heavy Duty 1 Book
Rare Mike Mentzer Book For Sale - Heavy Duty 1, 1993
Mike Mentzer is a former world-class bodybuilder - he won the 1975 Mr. Universe with the first perfect score in history. But despite the success in competitive bodybuilding, Mentzer's greatest achievements were to be intellectual ones. After many years of writing articles for the top bodybuilding magazines, Mike codified his revolutionary theory of High-Intensity Training. His system became popular among thousands of bodybuilders and fitness contestants around the world. He was an inspiration to many bodybuilders, including Dorian Yates.
After many years of logical research Mike perfected the system and was convinced that his work would change the bodybuilding world forever. He applied the laws of logic to bodybuilding and the results were incredible. His amazing articles appeared in popular bodybuilding magazines such as Ironman, Muscular Development, Flex, etc.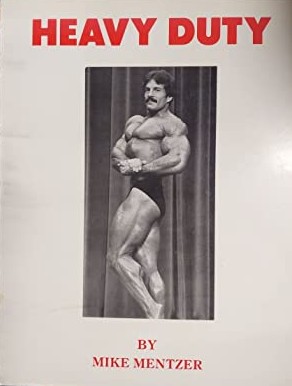 HEAVY DUTY ©
Rare Out Print Book That Started A Revolution!
A "must have" book for those who want to collect all of Mike Mentzer's works and follow the evolution of his teaching throughout the years. Mike reveals how you too can reach your greatest bodybuilding potential in the shortest amount of time, while training less that one hour a week! Mike reveals the role of genetics in bodybuilding, psychological and motivational factors, unique dietary considerations, high-intensity training principles, training to failure, and places bodybuilding into a completely unique perspective.

69 pages in 8 1/2" X 11" - including photos.
E-Mail Me if you are interested in buying Mike Mentzer's Heavy Duty 1 Book.