Home | Supplements | eBooks | DVDs | Articles | Forum

No Pain No Gain Bodybuilding Movie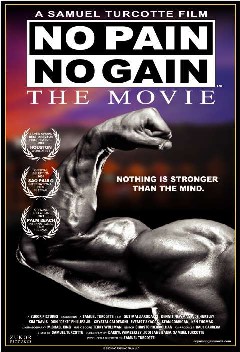 "No Pain, No Gain" is the first bodybuilding feature film since "Pumping Iron." However, it is not a documentary, but rather a powerful, inspirational, dramatic movie - the "Rocky" of bodybuilding.
The film tells the story of a highly intelligent former state champion bodybuilder from small town Ohio who has become obsessed with his scientific research and, consequently, has let his world-class physique go. He journeys to the mecca of bodybuilding, Los Angeles, to prove himself. Determined to reveal his new ideas to the world, the awkward yet sincere bodybuilder realizes he has no choice but to get back in supreme shape, compete in the ultimate "Mr. West Coast" bodybuilding competition and use his own body as the perfect reflection of his mind's work.
Amidst the LA-freaks, Hollywood wannabes, and outrageous gym culture of Los Angeles, the now determined bodybuilder struggles to preserve an integrity of the mind, body, and spirit that is so apparently void in this strange new land. Pitted against steroid-taking competitors and the biggest sports-nutrition company in the world, he is fighting against odds and enemies who want to destroy him. Searching for validity, recognition, and truth, he befriends a quirky computer genius and a kickboxing goddess, who help one another realize what has been missing from their lives. In the end, they discover that balance in life, similar to a well-balanced and sculpted physique, is the ultimate achievement.
"The cinematic heir apparent to Pumping Iron."
- Robert Kennedy, Executive Editor, MuscleMag International
"This film shows the courage, determination and heart it takes to be a true champion bodybuilder."
- Joe Weider
"Don't miss it. It's a winner."
- Gene Mozee, Iron Man Magazine
Watch No Pain, No Gain Full Movie Free