Universal Nutrition NOX3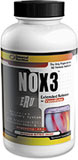 Cell-signaling vasodilators.
Feel the "perpetual pump".
Increase muscle size.
Increase strength.
Increase endurance.
Quicker recovery time.
Decrease muscle catabolism.
Nitric oxide. The "perpetual pump." Cell-signaling vasodilators. You've heard about it, now it's time to add it to your training program. What is vasodilation? In plain English, it's when blood vessels dilate or relax. When blood vessels relax, they widen. Nitric oxide (NO) is the key here. NO is an important endogenous pulmonary vasodilator. As a vasodilator, nitric oxide has the ability to increase your body's ability to deliver blood to working muscles. More blood means more oxygen and nutrients that are being pumped into skeletal muscles. All this translates into bigger, fuller pumps and better overall gains. In fact, with NO, you can expect increased muscle size, strength, endurance, and quicker recovery times.

Why should you choose Universal Nutrition's NOX3?

Unlike other formulas which only contain arginine alpha-ketoglutarate and possibly arginine ketoisocaproate, NOX3 contains the powerful third ingredient, ornithine alpha-ketoglutarate. Only NOX3 has arginine AKG, arginine KIC, and ornithine AKG. With this triple potency formula, only NOX3 can also decrease muscle catabolism and potentiate growth hormone (GH) function through the powerful ornithine-arginine combination. NOX3 is a super-charged nitric oxide supplement which you should have in your arsenal.

Supplement Reviews:

"I have been on NOX3 for just over two weeks. I have been experiencing phenomenal pumps while working out. I feel much stronger and during intense workouts, my biceps and chest feel as if they are going to burst out of my skin. I strongly recommend this product."
Bruce of Missouri

"I have been taking this product for 3 weeks now, I already gained 4 to 5 pounds of muscle. My energy and endurance are the highest they've ever been. I now look forward to working out everyday. Overall I would say this is a great supplement, and I will definitely get another bottle and see where it takes me."
Seth of Michigan

"I have been taking it for about 2 weeks and I have definetly noticed a change in my lifting, I went up a good 20-30 pounds in my bench Press. It's definetly the best product I've used so far."
Drew of Connecticut

As of yet, no known side effects have been reported from the use of (NO). (NO) is a natural nutrient produced by our bodies and is believed to be safe.

WARNING: Do not use if you are pregnant or nursing or if you are at risk of or being treated for diabetes or low blood pressure. Consult your health care professional before use if you are being treated for high blood pressure. Use this product with caution if you are at risk of have a history of cold sores. Caffeine, ephedrine, or ephedra-based products may reduce the effectiveness of NOX3. KEEP OUT OF REACH OF CHILDREN.

(The views expressed do not necessarily reflect the views of TrulyHuge.com)

Please Click On Our Sponsors


FREE WEEKLY FITNESS TIPS NEWSLETTER
Bodybuilding / Health / Fitness weekly e-mail tips,
stay informed and stay motivated, join today!

Sign up free by sending an e-mail to
newsletter@trulyhuge.com
WIN FREE SUPPLEMENTS
When you sign up for our free newsletter,
you will be automatically entered in our monthly drawing
to win free supplements and other great prizes.

Sign up now by e-mailing
newsletter@trulyhuge.com
This information presented is intended to be used for educational purposes only. The statements made have not been evaluated by the Food and Drug Administration (U.S.). This product is not intended to diagnose, treat, cure or prevent any condition or disease. Please consult with your own physician or health care practitioner regarding any suggestions and recommendations made.