Home | Supplements | eBooks | DVDs | Articles | Forum

Paul Grant Bodybuilder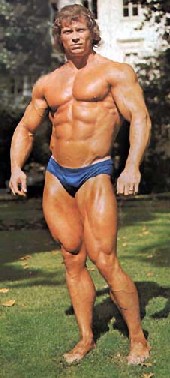 Paul Grant was a Welsh bodybuilder who once beat actor Lou Ferrigno for the IFBB Mr. Universe title. Unfortunately, he died at the age of 60 on November 23, 2003.
Paul Grant Biography
Paul Grant was born a twin in Wales in 1943. He spent his childhood years running cross-country, and at age 16 dropped out of school to start his own business - a bread delivery service. In the evenings, he spent time working out and bulking up.
In the 1970's, Grant became well known in the bodybuilding circles and won several titles. In 1984, he was diagnosed with a rare kidney disease. Because of this, his eyesight was poor and he had to spend three days per week, eight hours a day attached to a dialysis machine.
Paul Grant underwent a kidney transplant in 1985 and then proceeded to run a health food store. He also ran a gym that produced several champion bodybuilders. For 25 years, he was the president of the Welsh Federation of Bodybuilders.
Paul Grant died in 2003, and is survived by his wife Christine Mason, who once held the title of Miss Universe Bikini.
Paul Grant Bodybuilding
Paul Grant was a well known name in bodybuilding, winning numerous titles in the 1970's. During this time, he won titles such as Mr. Europe and Mr. World.
Paul competed in the NABBA Universe competition in 1971, placing 2nd in the tall class 1. He was particularly known for his overall muscularity and superb delts, fantastically cut abs and great thigh sweep. Paul Grant measured 50" in his chest and had a 33" waist.
Paul Grant Mr. Universe
Perhaps the finest moment in Paul Grant's life was in 1973 when he defeated Lou Ferrigno for the title of Mr. Universe, which was held at London's Victoria Palace Theatre.
Paul Grant can seen in the film Pumping Iron. Go to Pumping Iron Video