Home | Supplements | eBooks | DVDs | Articles | Forum

Psycho-Burst Training
Amazing new training breakthrough reveals...
"How You Can Build Maximum Muscle Mass In Minimum Time!"
The Psycho-BurstTM Training System, Featured In IronMan Magazine, Peak Training Journal And Endorsed By Respected Bodybuilding Authors And Coaches such as Doberman Dan, Steve Holman And Dennis Weis Is The Fastest And Most Effective Way To Build Maximum Muscle Mass And Strength!
If You've Been Disappointed With Your Results From Other Training Programs, The Psycho-Burst Training System Will Have You Sporting Massive Biceps,
W-I-D-E Powerful Shoulders,
Slab-Like Pecs, Thick And Wide Flaring Back...Along With Immense "Tear-Drop" Defined Thighs And Diamond Shaped Calves In Virtually No Time At All!
Imagine The Look On The Faces Of Your Friends, Family, And Acquaintances When They See How Quickly You've Miraculously Transformed Your Physique.
You're Going To Have To Convince Everybody You're Not Taking Steroids!
Are you ready to gain muscle mass, lose fat and totally transform your physique as quickly as possible?
What if I told you there was a proven training program that could help you build as much muscle as genetically possible?
And what if I told you that you could gain all this muscle and transform your physique in a matter of weeks as opposed to years?
Just a few short months ago I wouldn't have believed it myself, but it's true!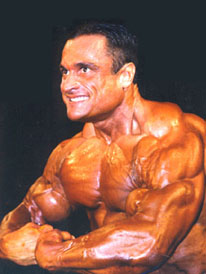 Robert "Rob" Colacino, Mr. USA And Top-Winning Mr. Universe Competitor Has Revealed All The Secrets He Uses To Build His Massive And Powerful Physique.
Standing 5'9" tall, Rob Colacino competes at a massive 240 pounds while displaying freaky muscular definition almost unheard of in competitive circles. This guy's a monster! When he talks about the secrets he uses to build his physique, I listen!
Rob Colacino has one of the most extraordinary, result-producing training programs I've ever seen! Rob has a special, highly-effective technique that he's refined and tested over the past 10 years that will stimulate the most amount of muscle growth possible from your workout.
Aren't you tired of wasting time trying to figure out how to really get big and massive?
Wouldn't you like a tested, highly-effective training program to pack muscle mass on you? One that's completely spelled out for you step-by-step so you know exactly what to do to get maximize gains?
Well look no further because this is exactly what the Psycho-Bursttm training system can do for you!
With the Psycho-Burst training system you'll...
Discover the secret techniques to build the maximum amount of muscle mass in the minimum amount of time.


Learn the special techniques to most effectively train for rapid muscle mass increases...while keeping your time in the gym very brief!


How to thoroughly stimulate maximum growth of each and every muscle group.


Rob's actual routine, completely described and demonstrated with no detail left out. Completely proven to pack powerful slabs of beef on your entire frame as quickly as genetically possible.


The very best exercises for maximum muscle mass and strength. You've probably been wasting your time and energy on exercises that will never give you the kind of gains you want...and didn't even know it!


Little-known training techniques that can boost growth in lagging body parts.


Underground training techniques that totally and completely cause maximum muscular growth as fast as possible!


...and tons of other bodybuilding "pearls of wisdom".

With The Psycho-Burst Training Video You Get Everything You Need
To Build The Physique You've Always Dreamed About.
This system is so unusual and different than any other conventional bodybuilding training system that demonstration is really required in order for you to fully understand how to do it and derive maximum gains from your efforts.
On this video, Rob demonstrates all the exercises and his secret technique for getting maximum muscle stimulation from his amazing system. Now I gotta tell you...this is no slick Hollywood, watered down, faked training production. This is a down and dirty "guerilla video" of Rob going through real training sessions using his real training weights! This is hard core training info...definitely not for the weak or wanna-be bodybuilder!
It's entirely narrated by Rob himself coaching and instructing you while you're able to see exactly how to perform the exercises.
In this amazing video, Rob is at his gargantuan off-season bodyweight of around 280...unbelievable! You'll also get to see some footage of Rob in his best ever contest condition.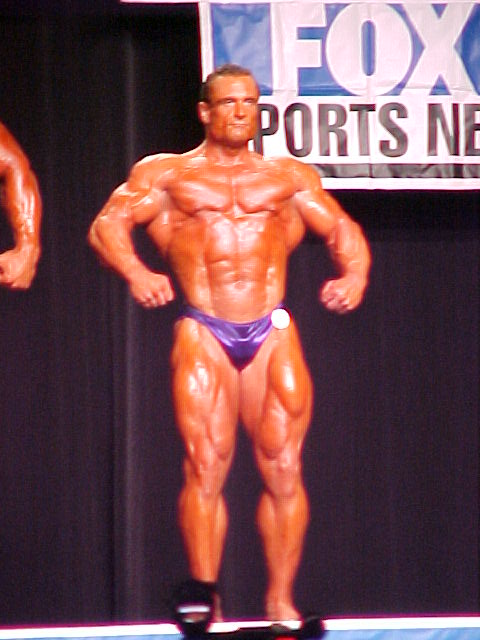 The Psycho-Burst Training System Is One Of The Most Effective Programs For Building Muscle Mass Quickly That I've Seen In My 25 Years In The Iron Game!
This highly instructional and motivational DVD video can now be yours ...
... for only $29.95 plus $8.00 S&H

Order your copy of the Psycho-Burst training DVD today
and finally build the physique you've always wanted!
Psycho Burst Training DVD Only $37.95
To order by phone call:
1-800-635-8970 or 1-503-648-1898
10 AM to 6 PM PST
To order by mail, send check/money order payable to:
Paul Becker
PO Box 95
Weiser, ID 83672