Home | Supplements | eBooks | DVDs | Articles | Forum

Robbie Robinson Bodybuilder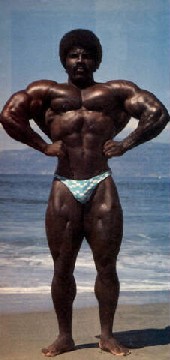 Robbie Robinson Biography
Robbie Robinson was born May 24, 1946 in Damascus Georgia. He was raised in Tallahassee Florida where he attended Florida A&M University. While attending, he competed in both track & field and football.
Robbie Robinson (Robby), full name Robert Robinson, has an official website, robbyrobinson.net. His height is 5' 7" with a competition weight of 200 lbs. His massive and extremely peaked arms became his trademark.
Robbie Robinsons legendary nickname is "The Black Prince". While training for football, track and field at Florida A&M University, he became aware of how his body responded greatly to weight training. This motivated him to enter his very first bodybuilding competition. Robinson turned professional in 1975, after participating in over 300 amateur competitions.
Robbie Robinson Bodybuilding
During the 1970's, Robbie Robinson was one of the most dominant professional bodybuilders in the world. On his way to this reputation, he won the IFBB Mr. America title, as well as the Mr. World and Mr. Universe titles.
The first year that the Masters Olympia event was held (1994), Robbie Robinson became the overall champion. In the years 1997 and 2000, he went on to win the same event in the 50+ division.
Robbie Robinson Video Pumping Iron
Robbie Robinson has appeared in only one movie, "Pumping Iron." This semi-documentary was a cult classic, which chronicled Robber's first professional year in 1975. This video starred many of the biggest names in bodybuilding, and followed them as they trained for the Mr. Olympia competition.
Pumping Iron DVD's are available on this site. If you are a Robbie Robinson fan, you will truly enjoy this video. Go to Pumping Iron Video