Home | Supplements | eBooks | DVDs | Articles | Forum

Sci-Fit EcdySterone 300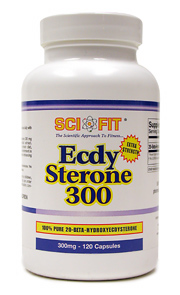 By Bryan Kernan author of Bodybuilding Supplement Secrets Revealed
SciFit EcdySterone 300 Review
Sci Fit's EcdySterone 300 is a product that finally offers the necessary dose of 20-Beta-Hydroxyecdysterone (a.k.a. ecdysterone) to achieve the numerous benefits uncovered through years of scientific testing.
SciFit's Ecdysterone 300 rovides an impressive 300mg per single capsule of the powerful herbal extract. Research has shown that with a high protein diet, Ecdysterone will produce a highly anabolic environment in the body resulting in numerous performance enhancing benefits.
Sci Fit is one of the first companies to utilize advances in standardization techniques now available that enable production of a high dosed product that costs less than the steroids it clinically outperformed!
The most notable study was one of 78 highly trained athletes in three groups (Scientific Sports Bulletin, S. Simakin. 1988). The ecdysterone + protein group lost body fat while gaining 6-7% lean muscle in only 10 DAYS! Moreover, the dose averaged less than 400mg per day.
Sci Fit harnesses the power of this relatively new supplement that unleashes the following benefits with ZERO side effects reported to date:
Increases protein synthesis.
Increases total protein and glycogen content in muscles.
Increases lean muscle tissue and reduces adipose content.
Reduces fatigue and apathy, yet increases speed and strength.
Increased athletic performance and VO2 max.
Ecdysterone is a powerful compound to say the least and based on the research, it can definitely help you maximize your genetic potential. Best of all, it's proven safe and effective for men and women! In fact, ecdysterone may just be the next herbal extract to create a revolution in the health, fitness, and bodybuilding world.
SciFit EcdySterone 300 Ingredients
Container Size: 300mg/60 Capsules
Serving Size: 1 Capsule
Servings Per Container: 60
Amount Per Serving:
20-Beta-Hydroxyecdysterone: 300mg
Other Ingredients:
Magnesium Stearate, Gelatin
Directions:
Take 1 capsule twice daily with a high protein meal.
Warnings:
For adult use only. Not for use by children, teenagers, pregnant or lactating women. If you are under medical supervision or on any prescription medication, consult with your physician before use.
Where to Buy SciFit EcdySterone For Sale?
Sadly SciFit EcdySterone is longer available. But you can still get an ecdysterone supplement that is just as good if not better, checkout Ecdy-Bolin Ecdysterone Supplement.