Home | Supplements | eBooks | DVDs | Articles | Forum

2005 Scientific Creatine Report e-book
A once in a lifetime FREE offer. The most comprehensive scientific review of the latest research studies about creatine. What really works for maximum muscle building and strength effects. What to take. When to take it. Also, the sports that research has shown creatine supplements help to significantly increase athletic performance in. Get ready to read about the truth about creatine. A $24.95 value but for a limited time you can download free right now!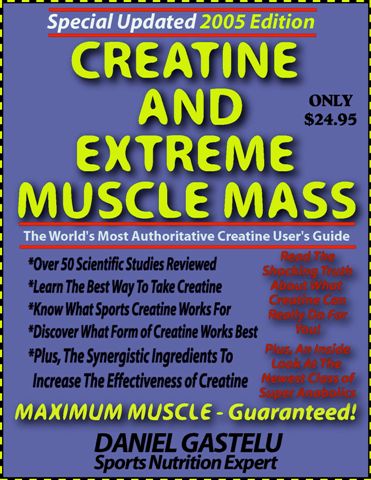 Click Here To Download The Guide Free!
The Best Muscle Mass Building Supplements
Confused About Which Supplements Are The Best?
Have You Been Wasting Money On Ineffective Bodybuilding Supplements?
Don't Waste Years And Tons Of Money To Find Out Which Ones Work And Which Ones Don't!
No More Trial And Error, Introducing The All In One Perfection Of...
EXPLOSIVE GROWTH BLEND (TM)
Muscle Building Supplements Made Easy!
As we all know there are several types of supplements that make muscle grow, recover, and rebuild faster. But no single supplement will give you all the benefits you want, supplements are synergistic, meaning when certain supplements are combined, their overall net effects are enhanced, allowing for explosive gains and muscle growth.
We have taken only the best bodybuilding supplements, backed by solid scientific research and in only the highest pharmaceutical quality and combined them into one perfect complete blend!
Explosive Growth Blend (TM) contains everthing you need at a fraction of what it would cost to buy each supplement separately.
Click Here For Full Details On This Powerful Mass Builder