Home | Supplements | eBooks | DVDs | Articles | Forum

The Cybergenics 60 day Total Bodybuilding System

Read what the experts say, click here.
The Cybergenics 60 day Total Bodybuilding System is based on a bedrock of extensive research into a process called Anabolic Matrix Alteration (AMA), the process which promotes unprecedented gains in Lean Body Mass. The complex translation of this into a process which can be used by everyone is the Total Bodybuilding System.
The system utilises seven synergistically developed, highly concentrated Isolate formulas, which are the cornerstone of this program. These Isolates, unlike any ordinary supplements, are pharmaceutical grade substrates, formulated to exacting specifications in a delivery system to ensure optimum bioavailability.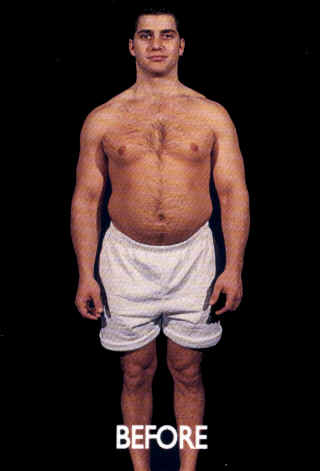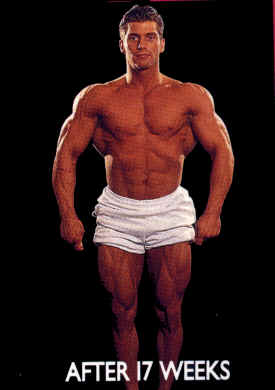 Nick Dinardo is an experienced Bodybuilder
Nicks results do not represent what the typical user might expect to experience
The precision Isolates are used in conjunction with a specialized workout, developed to ensure full integration with the supplements. This workout is the result of extensive research into the muscular development of the body, and the effect of supplementation.. because of its highly specialized nature, the workout can be brief, but intensive, averaging less than one hour, five or six times per week.
The specific effects of diet and nutrition are an integral part of the Total Bodybuilding System, however, our researchers have developed a diet of everyday foods, which when incorporated into the program, provides the specific nutrition spectrum required to fulfill the requirements of the training regimen.
A detailed manual provides precise instructions on each aspect of the training regimen, nutrition and the use of the Isolates, to provide a complete program which leaves nothing to chance, and which, together comprise a literal Bodybuilding powerhouse. A free training video (DVD format) creates a unique visual impact for the program.
The Total Bodybuilding system leaves nothing to chance, and whilst the training routines are vigorous, years of research and development ensure results. Since inception, the Total Bodybuilding System has undergone literally hundreds of refinements to ensure that it remains at the cutting edge of Bodybuilding Technology.
Follow the manual exactly, and this program cannot fail.
Recommendation
We recommend this product for all serious athletes, and Bodybuilders from beginner to the most experienced. In just a few weeks, you will see a dramatic increase in muscle, a noticeable depletion of Body Fat, and an increase in strength and stamina levels.
The 60 day program is complete at Only $154.95 plus $15 S&H
This price is for US orders only
e-mail us for a quote on International orders.
Please allow approx 2 to 4 weeks for delivery.
The Cybergenics Total Bodybuilding System is not currently available, email us below for updates:
Click Here For Free Updates
To order by mail, send check/money order payable to:
Paul Becker
PO Box 2471
Hillsboro, OR 97123
Or to order by phone:
1-503-648-1898
10 AM to 6 PM PST
This information presented is intended to be used for educational purposes only. The statements made have not been evaluated by the Food and Drug Administration (U.S.). This product is not intended to diagnose, treat, cure or prevent any condition or disease. Please consult with your own physician or health care practitioner regarding any suggestions and recommendations made.
---
Click here for Cybergenics Phase 1 6 Week Program and Cybergenics Cybertrim 6 week Mega Weight Loss Program
Send Question or Comments to
cybergenics@trulyhuge.com