Home | Supplements | eBooks | DVDs | Articles | Forum


---
[Submit to forum] [Back to The Truly Huge Home Page]
---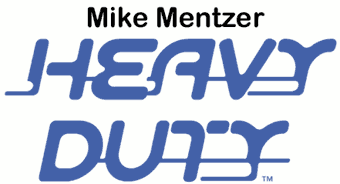 MikeMentzer.com
High Intensity Training Online
Posted by: Paul Becker
Mike Mentzer IFBB professional bodybuilder, author, personal trainer, Mr. America, Mr. Universe and the uncrowned Mr. Olympia.
Mike Mentzer revolutionized bodybuilding with his Heavy Duty, High Intensity Training methods which builds maximum muscle mass in in the minimum time. He believed is was possible to actualize your full muscular potential in only one year with the use of his Heavy Duty training system.
Sadly Mike Mentzer died in June of 2001, and Joanne Sharkey, who worked for him, took over and kept the MikeMentzer.com website going for 20 years, but then she also died in June 2021.
As of now the MikeMentzer.com website is down and I don't think it is coming back.
But, the good news is that many consider me to be an expert on Mike Mentzer's Heavy Duty, High Intensity Training methods, because I personally worked with and communicated with him for over 20 years.
If you have any questions about Mike Mentzer Heavy Duty workouts, diet, etc. please email me info@trulyhuge.com or call me at 1-503-648-1898
And, I will also continue to post information about Mike Mentzer and his unique training and nutrition methods. Checkout these online High Intensity Training resources:
Mike Mentzer Articles
Training with Mike Mentzer
Mentzer's Lost Heavy Duty Secrets
Ray Mentzer Training
Why High Intensity Training is the Best
Mike Mentzer Pictures and Videos
Mike Mentzer Photo Gallery
Mike Mentzer Workout Video
Mike Mentzer's Underground Seminar Video
Also be sure to sign up for our Free High Intensity Training Online Magazine, by clicking the link below:
[Natural Bodybuilding Forum] [Bodybuilding Supplement Forum] [Weightlifting Forum] [Bodybuilding Message Board]
[Powerlifting Forum] [Bodybuilding Discussion Forum] [Bodybuilder Forum] [Teen Bodybuilding Forum]
[Muscle Growth Forum] [Weight Loss Forum] [Workout Forum] [Health and Fitness Forum]
---