Home | Supplements | eBooks | DVDs | Articles | Forum

Muscle Express Training
An open letter to "hard gainers" or
anyone else who has had trouble with gaining muscle mass...
"Even the Hardest of Hard Gainers Can Pack
on 10, 20, even 40 Pounds Of Rock-Hard,
Muscle In The Next 45 Days... Working Out
45 Minutes or Less!"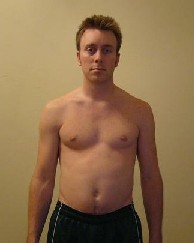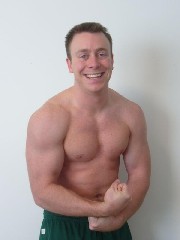 Gabe's Before Pic at 170 PoundsppppGabe's After at 210 Pounds

Gabe Davis Gained 40 Pounds In Only 4 Months
Using These Specific Steps and Exact Directions!
Dear friend,
If you're frustrated with your lack of muscle gains and you'd like to gain anywhere from 11 to 40 pounds of muscle in the next 45 days, you're going to want to read this page.
Here's why:
Let's face it: Some guys have better genetics than others. They just do.
Sure, maybe they got lucky that their parents had good "muscle building genes" and passed it on to them.
These freaks can just LOOK at weights and add pounds of muscle to their frame.
But What about You and I?
Unless you use steroids, your genetics WON'T allow you to put on very much muscle. Hard gainers tend to hit plateaus like a brick wall.
It's frustrating to grind out rep after rep... day in and day out... and never have any muscle gains to show for it.
If you're anything like me, you've probably searched high and low for workouts you can use that will help you pack on more muscle in less time?
Does this sound familiar...
<![if !supportLists]>. <![endif]>You've been getting little to no results from your time spent in the gym?

<![if !supportLists]>. <![endif]>You've wasted hundreds of dollars and a TON of time and effort, all with hardly ANY gains to show for it.

<![if !supportLists]>. <![endif]>You're starting to think you may NEVER be cut out to be huge and muscular?
Well... I want you to STOP worrying because I'm going to show you, once and for all, how you can immediately STOP wasting time, money, and effort on the wrong advice.
Why You Can Trust What I Say...
I'm a genetically average, typical "Hard gainer" who has finally learned how to pack on muscle in the fastest and easiest way possible.
You see, after years and years of research, I've learned what actually makes muscles grow.
Over the past few months, I've developed an amazing training system so revolutionary... it's going to make you wish you learned this stuff YEARS ago.
With this program, you don't have to hit the gym six or seven days a week... you don't need any special equipment or expensive supplements.
You don't need to eat everything in front of you, just in hope you'll gain a few pounds.
You Don't have to Train For More Than 45 Minutes
I developed this program had one goal in mind: To find out how to maximize muscle gains as quickly as possible.
Not only did I gain a TON of muscle with it, but my strength also went through the roof!
My bench press shot up by 25%... my squats increased by 35%... my deadlifts by 50%... shoulder press by 40%... and calf raises by 70%.
So not only did I gain muscle while my strength went through the roof... I didn't even put on ANY fat!
11 pounds of pure muscle mass without any fat!
Now You Can Reach Your
True Genetic Potential In Half The Time
Since this workout is so effective, even hard-core hard gainers can reach their genetic muscular potential in half the time.
You saw the picture of Gabe above, right? Well Gabe used this program and was able to pack on over 40 pounds of muscle mass in just 4 months.
And Gabe was NEVER able to make any gains before using this program.
These amazing secrets are all in the new ebook I put together. The ebook is a quick read but those pages have the muscle-building secrets you've been searching for.
Look... the fastest way to gain muscle is to copy a program that's already proven to work.
That way, you can skip the trial and error... and ONLY spend your time and energy on what WORKS to build muscle... dropping the rest.
Well, here's the quickest and easiest way to pack on SLABS of muscle mass...
Introducing "Muscle Express!"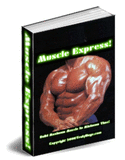 The Fastest Way To Gain Muscle Mass!
Muscle Express! is a complete program, specifically designed to do ONE thing and ONE thing only: dramatically increase your muscle mass.
In a LOT less time, you'll start seeing significant gains in muscle mass and because of that, you'll enjoy a nice boost in confidence levels!
You no longer have to worry about training incorrectly OR experiencing slow or no gains from your time spent in the gym. Those days are OVER!
Muscle Express! Gives you all the training tips and techniques you need in order to start packing on muscle mass in a LOT less time!
In fact, Muscle Express! is based on over 20 years of training experience; having used HUNDREDS of training techniques, and resources.
Over time, I learned from mistakes and kept track of what REALLY worked to build muscle.
Now, you can save years of frustration, wasted effort, and money.
Stop wasting valuable time in the gym with little to no results show for it. Muscle Express! helps you achieve gains in lean muscle that you were NEVER able to see before.
That's simply because you're going to start listening to your body... and avoid overtraining and undertraining.
Muscle Express! Contains all the strategies needed so you can finally reach your TRUE genetic potential for muscular gains. It also gets rid of many myths usually associated with training and nutrition. For example, you'll learn the TRUTH about hyped-up products like supplements.
Before you waste another dime... you'll want to get this program and save yourself a TON of time, money, and effort!
Muscle Express! - Start Seeing the Fastest
and Easiest Gains of Your LIFE!
Muscle Express! provides a new type of stimulus for massive muscle growth.
The clients I train have seen incredible gains in a lot less time than anything else we've tried.
This program is an extremely effective growth hormone stimulator and packs on mass, strength and power faster than you can even imagine.
Try out the Muscle Express! Program now, for less than the cost of a bottle of the latest hyped up supplement. I promise, it will help you a LOT more than that supplement will.
You'll be well on your way to gaining more and more muscle mass naturally!
What You Will Get:
Muscle Express! Manual eBook includes - a full training regimen, all workout factors such as how many exercises, exercise form, rest between sets, how can you tell which is the best rep range to use, how much weight to use, how many sets, when to add weight, how much weight to add, how long and how often to workout, the importance of a training journal, nutritional support program and supplement tips.
This manual will show you...
<![if !supportLists]>. <![endif]>What really makes muscles grow?

<![if !supportLists]>. <![endif]>Intensity and volume, how much is enough?

<![if !supportLists]>. <![endif]>The real solution to the problem of getting stronger but not getting bigger.

<![if !supportLists]>. <![endif]>How to vary routines to continually make bigger muscle gains.

<![if !supportLists]>. <![endif]>How to gain incredible power & size...FAST!

<![if !supportLists]>. <![endif]>How to create a natural anabolic state so you pack on muscle

<![if !supportLists]>. <![endif]>How to use hardcore shock techniques for accelerated muscle growth.

<![if !supportLists]>. <![endif]>Exercise descriptions & video demonstrations.

<![if !supportLists]>. <![endif]>How to eat for maximum muscle mass and body weight gains.

<![if !supportLists]>. <![endif]>A special diet for building muscle while losing fat.

<![if !supportLists]>. <![endif]>How to really track your muscle building and/or fat loss Progress.

<![if !supportLists]>. <![endif]>The best bodybuilding supplement stacks for muscle building and fat burning.

<![if !supportLists]>. <![endif]>How to train to activate the MOST muscle mass possible.

<![if !supportLists]>. <![endif]>The only way to recuperate faster from workouts so you gain more muscle!




<![if !supportLists]>. <![endif]>The ONLY way to gain strength from workout to workout.




<![if !supportLists]>. <![endif]>The best exercises to turn you into a muscle mass monster. Your buddies will think you're on the juice... but you'll know the truth!




<![if !supportLists]>. <![endif]>Learn the training secrets of the world's most strongest and most muscular men




<![if !supportLists]>. <![endif]>Learn the secret overload strategies needed to explode your muscle gains




<![if !supportLists]>. <![endif]>What to eat in order to gain the most muscle. You'll need new clothes once you're packing on muscle mass at will!




<![if !supportLists]>. <![endif]>Tips for being so motivated during your workouts, you'll feel like you can bend the bar on the barbells!




<![if !supportLists]>. <![endif]>How to skyrocket your intensity so you can reach your muscle building goals fast.




<![if !supportLists]>. <![endif]>Why reading muscle mags will KILL your muscle gains dead in their tracks.




<![if !supportLists]>. <![endif]>The TRUTH about why hardgainers don't reach their true potential




<![if !supportLists]>. <![endif]>Proof as to what it REALLY takes to force your body to pack on more muscle




<![if !supportLists]>. <![endif]>The most powerful secret you need to know to reach your true genetic peak.




<![if !supportLists]>. <![endif]>Get a complete, step by step workout program that will transform your body and help you pack on muscle mass as fast as humanly possible!
And many more muscle building secrets!
Get ready to sky rocket your muscle gains and maximize your muscularity... faster and easier than ANYTHING else you've tried!
Also if you order right away you will get the following Free Bonuses:

FREE BONUS REPORT #1
A Secret To Gain Up To An Inch On your Upper Arms In Only 30 days! - Want bigger arms? This report will show you how to blast your biceps so they pop out of the sleeves on your shirts!

FREE BONUS REPORT #2
How To Gain At Least 4 Pounds In One Month, With This Rediscovered Natural Weight Gain Trick! - Almost NO ONE else knows about this incredible trick for packing on 4 pounds of muscle mass simply by doing this ONE SIMPLE THING!

FREE BONUS REPORT #3
You need lots of protein to make big muscle gains, so we're including fourteen tasty recipes for protein drinks that you can mix up quickly and easily in your blender. Delicious natural shake recipes, calorie dense to assist in anabolic recovery. Also high performance pre-workout drink formulas, to power you through your training.

FREE BONUS REPORT #4
How To Cycle Your Diet And Training For Out Of This World Results! - The truth is, your training and nutrition play the BIGGEST role in your muscle gains (or lack of) This report will show you a simple trick you can use to immediately pack on muscle.

FREE BONUS REPORT #5
How To Gain Up To 29 Pounds In One Month With This Super Growth Exercise!- You'll get so big with this report, your friends are gonna think you're on the juice... but you'll know the truth.

FREE BONUS REPORT #6
The Jealously-Guarded Secret To Muscle Hypertrophy!- There are so many lies and myths floating around about gaining muscle, but this report gives you the real truth about what it takes to pack on muscle mass.

FREE BONUS #7
FitBody Software allows you to keep track of your nutritional, fitness, and wellness records. By adding foods to meals throughout the day, FitBody compares the nutritional intake against one of ten user defined diet plans. The results are displayed in an interactive food label or on a bar graph display. Nutritional analysis can be performed on a meal, a day's meals, or over a specified period of time. FitBody also keeps track of your workout program by logging your exercises and charting your progress.
IT'S GUARANTEED TO WORK!
You have a complete, NO RISK, 100% Unconditional Guarantee that this will work for you.
It's true, I'm taking away all risk by letting you use this program at my expense!
This way you can order with confidence, that if it doesn't work for you, or you don't like it for any reason, you can get your money back quickly and easily.
I guarantee you'll see significant and tangible results, if you use the exercise and diet plans in the book for just 30 straight days... you'll learn AND ACHIEVE what most people never will.
However, if you decide you want a refund, just show me a little proof (training and diet journals) that you gave it an honest try. However, by following the simple plan, you'll see such amazing changes that you'll want to keep it forever.
Look, when you finally have a muscular body you're proud of... you feel more confident and happy.
So you deserve this, it's something you can do for YOU.
The Muscle Express! Manual is a PDF eBook, so there's no shipping charge because you download it instantly after you order!
You can also print it out on your computer printer. You'll get the ebook and all bonuses, available now for a limited time for only $27.00!
After you order, you'll get taken right to the download page where you can get the ebook!
It only takes a few minutes and before you know it, you'll be packing on slabs of rock-hard muscle, faster and easier than you EVER have before!
Here's what to do now:
Click the link below and order with your credit card online and you'll be downloading the ebook and bonuses in just a minute!
The Muscle Express! eBook Only $27.00
You will be sent the download information by e-mail within 24 hours!
P.S. Are you really ready to SKYROCKET your muscle gains? Why waste any more time, effort, or money? Order Muscle Express! now and also get all 7 FREE bonuses!
Get going toward building the muscle mass you crave and order this secret workout program.
This workout program is so effective the average bodybuilder who tried it gained 11 pounds of muscle in a month and a half.
A few packed on even MORE... AND they did it without gaining any fat! Like Gabe, who packed on 40 pounds of muscle!
P.P.S This workout is not for everybody. If you can't devote 45 minutes per day, a few times a week and follow instructions to the T... this is not for you.
On the other hand, if that's not a problem for you... then get ready for one of the most exciting and MUSCULAR journeys of your life...
The Muscle Express! eBook Only $27.00
You will be sent the download information by e-mail within 24 hours!

You will need the Adobe Acrobat viewer to view the PDF books.
Click the icon above to download your FREE Adobe Acrobat viewer.

Hardgainer Ab Workout
Hardgainer Arm Workout
Hardgainer Back Workout
Hardgainer Calorie Intake
Hardgainer Chest Workout
Hardgainer Full Body Workout
Hardgainer Leg Workout
Hardgainer Meal Plan
Hardgainer Shoulder Workout
Hardgainer Training Frequency
High Intensity Training for Hardgainers